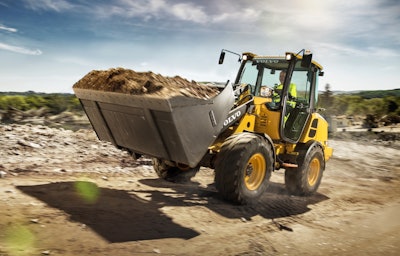 Volvo has introduced updated versions of its L20 and L25 compact wheel loaders, pairing a new Tier 4 Final engine with fully automatic hydrostatic drive.
The new L20H and L25H made their debut at the 2017 ICUEE show in Louisville earlier this month. The machines are powered by a 64-horsepower Volvo D2.6M water-cooled engine with a diesel oxidation catalyst that eliminates the need for regeneration or additives.
The machines are 5 percent more fuel efficient and boast 8 percent more horsepower than their predecessors, the L20F and L25F. Volvo has worked to improve cycle times over the F-Series machines as well. The new H-Series machines have two speed settings with the ability to reach maximum speeds of 18.6 miles per hour.
Thanks to their maneuverability, Volvo product manager John Comrie says the machines boast enough versatility to be useful on many jobsites. The machines feature a turning radius of 26 feet, 11 inches and a standing height of 8 feet, 1 inch. Bucket capacity on the L20H is 0.92 cubic yards while the L25H can hold 1.1 cu. yds. More key specs are below.
For traction and stability on rough terrain, Volvo says the L20H and L25H feature a 38-degree articulated oscillating joint as well as operator-activated 100 percent differential locks on both axles.
"The low-profile design is optimal for loading and unloading containers, and the low center of gravity gives added stability for carrying heavy loads on rough terrain," Comrie says.
Volvo has also increased the cab size of the L20H and L25H over their predecessors. The machines' FOPS/ROPS cab features a larger window area, minimal noise and vibration levels and an adjustable steering column.
A joystick lever controls three functions, including the hydraulic attachments, multi-purpose buckets, sweepers and augers. The machines also feature an inching brake pedal.
A wide range of attachments fit these compact loaders. The SSL Attachment Bracket allows the machines to use most skid steer attachments, Volvo says, while an ISO coupler allows for the use of Volvo attachments.