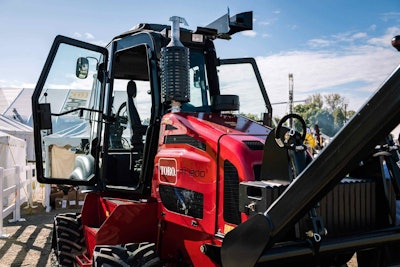 Toro has introduced a cab option for its RT1200 riding trencher.
Unveiled at the ICUEE show last week in Louisville, the cab features entry doors on both sides along with heating and air conditioning. On days nice enough to let the outside in, the cab's rear window can be opened and both doors can be locked open with an extended door latch.
The new cab also features front and rear windshield wipers and is pressurized, keeping operators out of the noise, dust and debris of the jobsite.
"Adding a cab option for the popular RT1200 riding trencher essentially allows operators to get more year-round usage out of their equipment by providing a safe and comfortable space in which the operator can perform trenching operations," says Kyle Cartwright, associate marketing manager at Toro. "Ensuring the cab was easily accessible, safe and comfortable were key drivers in the development of the new RT1200 cab assembly."
The cab's model number is 25208 and it will be available in early 2018.