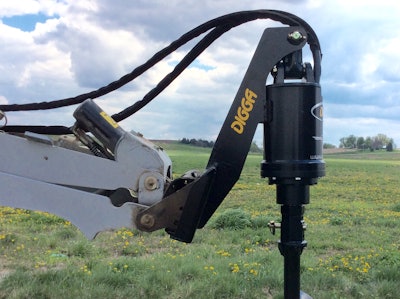 Providing extra reach through two additional feet of boom length, Digga's new Mini Loader Extension Mounts are designed for tough-to-reach areas.
The extensions allow mini loaders to carry Digga's entire line of DSS Series planetary drives, decrease the need for additional auger extensions and accommodate longer 4-foot auger bits while also adding a unique cradle positioned for stability while transporting the drive on site.
The DSS Series drives feature a compact design allowing the attachments to fit into a 10-inch diameter hole, providing deeper penetration without needing additional extensions. These drives have a two-piece shaft design that isolates the planetary gears from the pushing, pulling and bending forces without increasing the load on the bearings.
All Digga DSS Auger Drives are covered by a five-year warranty on the planetary gearbox, a three-year warranty on the hydraulic motor and a lifetime shaft pull-out warranty.