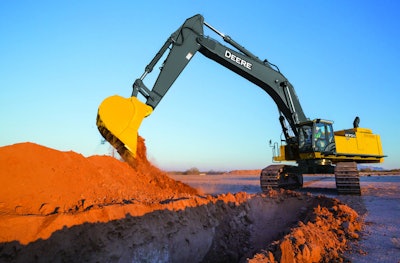 Not long after announcing similar upgrades to its second-largest excavator, John Deere has introduced engine and hydraulics upgrades in its largest excavator, the 870G LC.
Powered by a new Tier 4 Final, 512-horsepower engine, this production-class machine features more hydraulic flow than its predecessor, says Deere excavator product manager Mark Wall, who adds that it is an ideal machine for loading haul trucks in a quarry, feeding a hopper and other applications in rocky conditions.
An expansion tank in the updated model's cooling system enhances air pursing, provides make-up fluid when needed and improves overall cooling efficiency to keep the new engine operating at peak performance.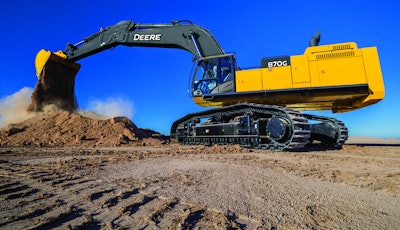 Like the 670G LC, the new 870 features the Powerwise III engine/hydraulic-management system which balances engine performance and hydraulic flow for the application at hand through three selectable work modes:
High Productivity: More power and faster hydraulic response
Power: Smooth and balanced metering for normal operaiton
Economy: Reduced top speed and fuel saving assistance
Deere says the machine was designed with easy servicing in mind including features such as engine and hydraulic oil sample ports, a battery disconnect switch, spin-on fuel filters and two additional water separators for longer fuel filter life.
Meeting emissions requirements through exhaust gas recirculation (EGR), a diesel oxidation catalyst (DOC) and selective catalytic reduction (SCR), the machine features an improved piston design and burns particulate matter in the cylinder, saving operators more time on servicing the machine and eliminating the need for a diesel particulate filter.
Inside the cab, operators will find a heated air-suspension seat along with a new monitor with turn-and-tap rotary control for quick access to numerous functions.