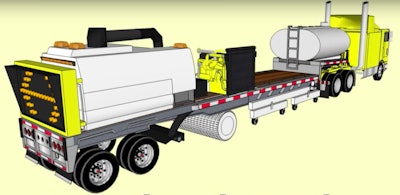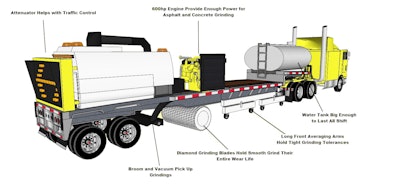 Diamond Road this summer plans to launch its Diamond Road Smoother all-in-one machine that includes a profiler, computer system, water tank, cutting machine, brooms, vacuum system and directional arrow board on a trailer that can be towed.
Features include:
Long averaging arms with multiple pivoting wheels designed to smooth individual humps and dips, according to the company, that will naturally level surface defects
A quick set up and transition time from transport to grinding, in less 2 minutes and walking speeds between bumps up to 5 mph
8-foot grinding head
Automated controls that allow the machine to run off of a pre-determined road profile
Works on both asphalt and concrete roads at up to a depth of 1/2-inch without decreasing speed, the company reports.
Diamond Road says the new Smoother could be used prior to chip or slurry seals and thin overlays to help provide a smoother surface than by simply applying those preventative maintenance options.