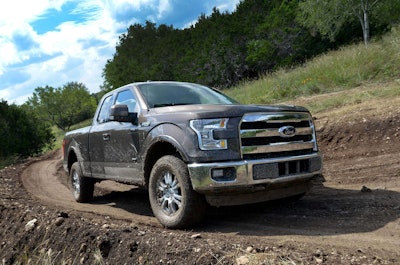 Ford has rejected a recent Bloomberg report stating that 40 percent of its new F-150s fail to meet 2016 U.S. emissions and fuel standards.
The article, titled "Ford's crown jewel the F-150 has a big problem after overhaul," is based on findings produced by automotive research group H-D Systems, which reports that the new 3.5-liter, 4WD F-150 SuperCab "falls 1 mile per gallon short and emits 15 grams of CO2 per mile more than allowed." No other F-150 models are cited.
Ford told Equipment World that the June 16 report is not accurate.
"Bloomberg's F-150 story is wrong. Ford exceeds fuel economy standards, and F-150 is a strong, positive contributor to Ford's fuel economy compliance," Ford Truck Communications Manager Mike Levine said. "F-150 also has best-in-class gasoline fuel economy. Customers are recognizing F-150's best-in-class capability and fuel efficiency with strong and growing sales, while major competitors are losing market share."
According to Bloomberg, the F-150 line-up as a whole meets targeted 2016 U.S. emissions and fuel standards thanks to the automakers' two-wheel-drive F-150s that are equipped with smaller engines.
The report states that "Ford and other manufacturers are racing to incorporate new technologies in their pickups, including gas-electric hybrids and 10-speed transmissions. They could plead for relief during a so-called midterm evaluation of the U.S. requirements this month."
Ford and GM worked together to develop a 10-speed transmission which is available for the F-150.
The Environmental Protection Agency, National Highway Traffic Safety Administration and California Air Resources Board are scheduled to publish an assessment related to emissions and fuel technology later this month.
Equipment World has reached out to H-D Systems but the Washington D.C.-based research group had not responded to an interview request.