During a press event last week at the company's headquarters in Peoria, Illinois, Caterpillar unveiled a new soil compactor with an improved cab and increased productivity.
Powered by a Cat C7.1 ACERT engine, the new 815K soil compactor is rated at 248 net horsepower and weighs in at 49,353 pounds.
Cat says the 815K meets density requirements in fewer passes and provides full compaction in both forward and reverse using a modified-chevron, tamping-wheel tip design combined with four force: pressure, manipulation, impact and vibration. "The tampered wheel tips "walk" out of each lift without fluffing the soil, leaving the top of the lift compact with a relatively smooth and sealed surface," according to a the company's announcement of the machine.
Each wheel also features two cleaner bars with adjustable tips.
The 815K could also eliminate the need for other machines by spreading without assistance when delivering fill.
Further productivity boosts come in the form of an increased fuel capacity thanks to a 12 hour fuel tank; engine idle shutdown; delayed engine shutdown and Cat's Advanced Productivity Electronic Control System transmission which provides more seamless operation.
Compaction guidance
Cat also offers two compaction guidance systems on the 815K: Cat COMPACT and the Compaction Control system with Machine Drive Power.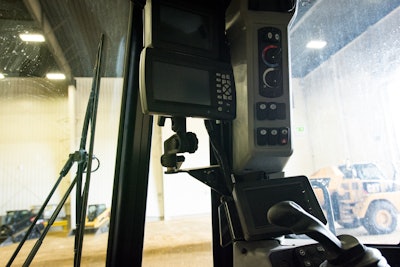 COMPACT is a compaction measurement system which guides operators toward their targets providing real-time soil stiffness indication on the in-cab display.
Chrissy Metz, Strategy and Growth Development Manager of Cat's Industrial and Waste Group, said Compaction Control measures the driveline power used to roll over soil using by monitoring rolling resistance and soil stiffness.
Metz said the Compaction Control system can be upgraded to 3D GPS mapping which displays a real-time view of progress, records results and provides the precise location the operator is working in.
Improved cab
The 815's new cab features K-Series commonality with its sister soil compactors and is isolation-mounted resulting in reduced vibration and sound.
Inside, operators will find a Cat Comfort Series III air-suspension seat, automatic climate control, filtered air and wide visibility of the jobsite thanks to the removal of the steering wheel and complemented by an optional rearview camera.
In the steering wheel's place is Cat STIC steering which offers increased responsiveness through a single lever on the left-hand side of the seat. Steering is controlled with side-to-side movements and transmission is controlled with a trigger near the top of the joystick.
Steering is bolstered by load sensing hydraulics and a 42-inch articulation angle for precise positioning in tight areas.
Electro-hydraulic controls allow precise blade positioning. Plus, the machine's left pedal can act as a brake, transmission neutralizer and engine decelertor which allows for a quick override of engine speed selected by the throttle lock to slow the machine when manueuvering.