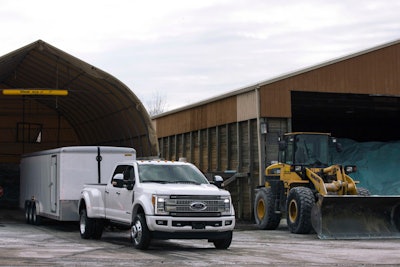 While the latest F-150 models will nearly back up your boat or trailer for you, Ford's figures Super Duty customers want a bit more control.
But that doesn't mean these new trucks aren't at least going to try and help you out, as Ford has equipped the next-generation Super Duty models with a host of cameras ready to coach you through backing up whatever is in tow.
Ford calls this patents-pending feature Trailer Reverse Guidance. It uses three of the up to seven cameras available on 2017 Super Duty models to allow the driver to see multiple angles of the trailer when in reverse as well as a color-coded overhead view.
While a camera in the tailgate tracks the motion of the trailer, two side-view cameras shift the driver's view of the trailer from the in-dash display as the trailer's angle changes. You can see it in action in the video below.
Ford is also offering for the first time a customer-placed camera from the factory which can be attached to the back of a trailer to give the driver a better view of the overall environment. A center high-mounted stop lamp camera is available as well, providing a view into the cargo box, assisting in the hook-up of gooseneck and fifth-wheel trailers.
And