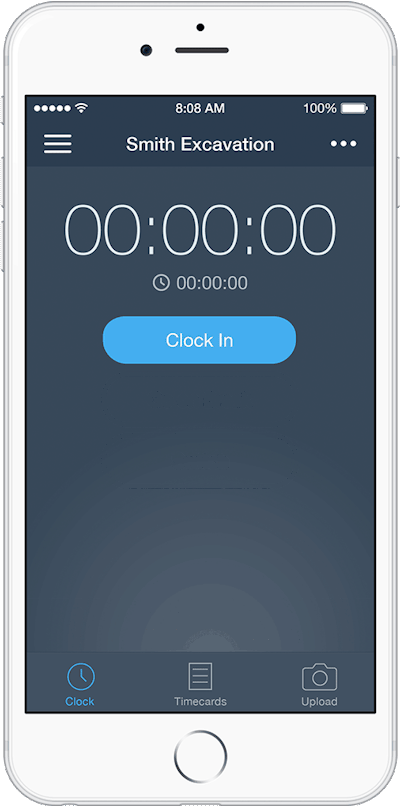 Digital timesheet app busybusy has made a few changes that improve the app's ability to facilitate larger construction firms.
We first reported on this app just under a year ago following a meeting with founder Isaac Barlow, an excavation contractor from St. George, Utah. After pinpointing labor costs as the primary reason most construction businesses fail within their first seven years, Barlow created busybusy, which allows workers to clock in at the jobsite from their iPhone or Android device.
When they do, the time and their GPS location are logged, allowing bosses to more easily keep track of their crews.
The app also lets contractors set a labor budget for each project and as workers clock in and out, the current labor cost can be checked against that budget each day.
During a meeting at World of Concrete last week, Barlow said the company has worked in the last year to improve the app's infrastructure. The result is the app's first major release update since 2013. "Today we mostly service small- to medium-sized contractors. This update will allow us to facilitate a wider enterprise base," he said.
Some of those changes were to the backend, beefing things up to ensure the load of adding a ton of users wouldn't cripple the app. But one of the major changes to busybusy, and a big request from the app's current user base, enables it to continue working even when workers leave the range of their wireless carrier.
Barlow says whenever workers venture outside the range of cell service, the app now enters offline mode and performs any conflict resolution when a wireless connection is restored.
Another major update to the app was to the interface, allowing larger construction companies to track multiple crews. Barlow said that for larger construction companies, a viable time-tracking app must be able to "facilitate all of their people and allow them to manage crews and people in different locations."
Barlow said another change focused on larger companies was the app's reworked onboarding process. He explained busybusy discovered that a company's adoption of the app can take a significant hit when setting up employees with the software who learn a bit more slowly than the more tech-savvy employees. "So we updated onboarding to help them identify the tech savvy and begin with those employees before rolling on down to the less tech-savvy."
Additional new features to the app include:
Ability for managers to work seven levels deep into a project.
Easier and more automated geofence locations for ensuring workers don't enter certain areas of a jobsite
Addition of California compliance issues
Ability to tag tasks with insurance class codes
The app is available as a free trial for one user and pricing starts at $39 per month for two employees. busybusy is available on the iOS App Store and the Google Play Store.