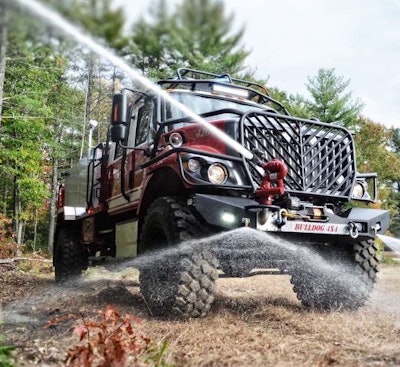 As we explained in a separate post from earlier today, we're at the SEMA show this week providing coverage over the course of the next few days of the latest pickups, work trucks, truck concepts and aftermarket parts.
All the big names in truck making are at SEMA each year and they typically bring along quite a few concept trucks, pickups that have undergone heavy customization to outfit them for specific tasks. So we thought we'd get in gear for the week ahead with one very task-oriented work truck.
The roving water cannon you see in the gallery above and video below is developed by Howe and Howe Tech and is dubbed the Bulldog 4×4 Fire Truck. According to the Bulldog website, the truck is built off of International's 4800/7400 4×4 platform.
The Bulldog has a 25-inch ground clearance and rides on 54-inch Hemmit military tires. Because of its spec-out, Howe and Howe refer to the truck as a "multi-role" fire truck which can be used by firefighters as a pumper truck or wild fire response unit.
It's most distinctive features are its front-end water cannons which can fire 300-1,000 gallons per minute at 100-150 psi. The truck can be equipped with up to a 2,000-gallon water/foam tank, so while it might not be able to single-handedly put out a fire, it's an incredibly useful weapon against forest fires or other blazes/trouble spots that are hard to reach on foot or with a traditional truck.
The truck can also come in handy in extracting other vehicles in hard-to-reach areas thanks to its winch rated at up to 30,000 pounds.
You don't want to miss the bulldog in action in the video below. And stay tuned throughout this week as we bring you more awesome trucks from the SEMA show floor.
Via: Truck Yeah!