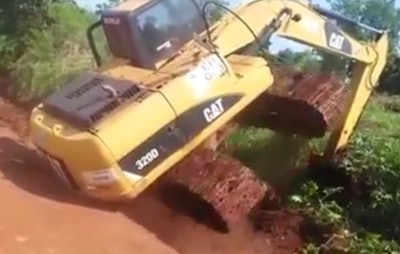 Just in case you ever hoped there existed a video on the Internet that perfectly summed up how to get fired as an equipment operator in just a couple of minutes, we have good news.
It takes a little while to figure out just what this guy is trying to do with this machine as he throws the boom back and forth and rams the machine into an embankment. But you soon realize he's trying to do a nifty track-spinning trick with the entire weight of this very expensive machine resting on its rear end.
Can't imagine he's still employed if his boss ever got a look at this clip.
The depressing thing about this is that there are so many of these types of videos floating around YouTube and Facebook, uploaded by guys who must genuinely think they're the first person to lift an excavator's tracks off the ground. You are not. You are simply creating a record of why you are unfit for employment.
Our hope is that they're in the minority since, considering the shortage of skilled workers in the U.S. at the moment, we're going to need responsible operators in a bad way pretty soon.