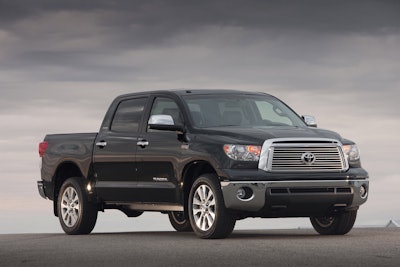 The Tundra pickup is one of several models Toyota is including in a massive, 6.5 million-vehicle global recall related to a defect with the vehicles' power windows.
The automaker is recalling 2 million vehicles in the U.S. alone, including an unspecified number of 2009-2011 model year Tundras. The trucks could be affected by the issue which affects the driver's side power window master switch. Toyota says the switch may have been manufactured with insufficient lubricant grease.
Toyota explains that if enough grease isn't applied, the switch may develop a short circuit under certain conditions that can cause the switch assembly to overheat and melt. And that could produce smoke, which often times, leads to fire.
Toyota is aware of at least 11 incidents where the switch or door to a vehicle burned, according to a report from USA Today.
Toyota says it will notify owners of the involved vehicles by first class mail. Dealers will inspect the switch and apply heat-resistant grease to remedy the problem, and if the switch is not operating normally, an internal circuit board will be replaced.
This is the automaker's second safety recall over this particular defect. The company previously recalled 2007-2009 models and Toyota says this latest recall "adds vehicles not previously involved in the prior action that utilized an alternative lubricant application method."
Here's a full list of all the vehicles affected by the recall:
2007 and 2009 Camry and Camry Hybrid
2009-2011 Corolla
2008-2011 Highlander and Highlander Hybrid
2009-2011 Matrix
2006-2011 RAV4
2009-2011 Sequoia
2009-2011 Tundra
2006-2010 Yaris
2009-2011 Scion xB
2009-2010 Scion xD