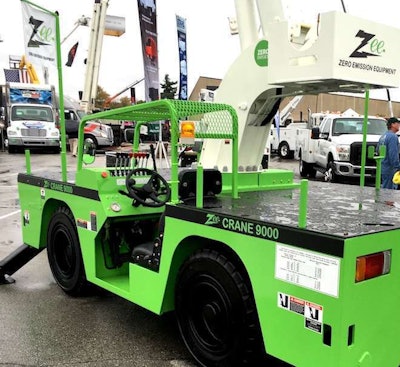 While wandering around the N Lot at this year's ICUEE equipment show, a bright green grouping of carry deck cranes stood out from the scores of white bucket trucks and other utility equipment.
I made my way over and quickly saw a sign touting the machines, branded with the name "Zee" (Zero Emissions Equipment), as the "ONLY Production All-Electric Carrydeck Cranes."
Though many in the construction industry are easily annoyed by conversation involving low-emissions alternatives, all-electric heavy equipment is a frontier on the horizon manufacturers are certainly keeping their eyes on. In fact, Volvo CE has announced it's already diligently working with prototypes in a Skanska quarry on bringing all-electric versions of its heavy equipment to market.
Needless to say, I was intrigued by a multi-ton all-electric crane and I stopped in to speak with the crew at the booth.
"This was a secret product up until yesterday," said Zee's Tony LiRocchi on Wednesday morning. "This show is the first time we're officially showing it off."
At its ICUEE booth, the company was showing off its Zee Crane 4500 and 9000 models. The 4500 has a rated operating capacity of 4.5 tons, while the 9000 is rated at 9 tons. LiRocchi said a 15-ton model is in the prototype phase.
The cranes are powered by dual battery packs containing varying amounts of 72 volt batteries. and can be fully charged overnight. "Basically, you plug it in and when you come back in the morning it's ready to go for an 8-hour day of continuous work," LiRocchi said. "Technically, they can operate for two whole days if you only use the crane function. The real power drain is when you use the drive axles."
Specs were only available on the 4500 model, which weighs in at just shy of 8,000 pounds. The unit has a top travel speed of 4.5 miles per hour and a pick and carry speed of 2 mph. Here's how lift capacity at varying heights break down:
9,000 lbs. at 3 feet
6,062 lbs. at 8 feet
5,379 lbs. at 10 feet
2,954 lbs. at 16 feet
1,675 lbs. at 22 feet
1,010 lbs. at 28 feet
LiRocchi explained that the Zee cranes were born out of a desire to give construction sites, manufacturing facilities, warehouses and more access to a powerful crane that easily met California's strict emissions regulations. Recently, the cranes received their biggest endorsement yet.
"We approached MillerCoors brewing with one of the units about eight months ago with a free unit to use in a warehouse and just asked them to tell us what they liked or didn't like about it," LiRocchi said. "They kept coming back to us saying, 'What's the catch? What's this really cost us?' We said it would only cost them about 45 minutes of writing down what's wrong with it."
The only response Zee received was an order for two more of the cranes, LiRocchi said.
And because of how quiet the cranes are, he said the movie industry has shown interest as well for use during scene taping. "The market for these, really, is almost unlimited," LiRocchi said.
Options for the cranes include non-marking tires an electronic LMI system and a man basket. You can find more information at zeecrane.com.