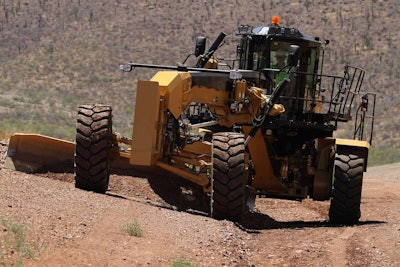 Caterpillar has introduced the latest model of its motor grader designed for small-to-medium-sized mining operations with improvements in just about every area of operation that count.
Built for building and repairing mine haulage roads where 150-ton trucks or smaller are run, the 71,454-pound 16M3 features a 16-foot moldboard and is powered by a Cat C13 ACERT engine. The Tier 4 Final power plant provides between 290 and 348 horsepower.
More efficient power
Fuel consumption is reduced through the use of a new standard ECO mode which optimizes engine speed up to 1,900 rpm in working gears. When selected by the operator, the mode is capable of reducing fuel usage between 4 and 5 percent. Also contributing to more fuel-efficient operation is an engine control system feature which "provides consistent power to the ground by continually adjusting the engine to compensate for power losses to the cooling fan," Cat says.
The C13 is paired with a direct-drive power-shift transmission with eight forward and six reverse gears. Now standard is an automatic differential lock to the modular trans-axle which assists during manual control to ensure appropriate locking and unlocking to prevent damage and provide optimum traction and maneuvering.
The 16M3 also features nearly 15-percent greater dynamic braking torque at the rear tandems, achieved by enlarging both the brake disc diameter and the piston area. A new manual brake wear indicator simplifies disc wear measurement, eliminating having to remove the brake pods to check wear.
Cat also beefed up the machine's structure. The highly-loaded, center-shift section is now a heavy-duty steel casting, the hitch plates are 50 percent thicker and the rear frame was lengthened, incorporating two bumper castings for added counterweight.
Operator friendly
Operators are sure to appreciate the 16M3's automatic regen. "If I'm just sitting still and the engine's in idle and it goes into the regen it'll kick up a little bit in the rpms but that's the only thing I notice," said grader operator Todd Stillwell in a Cat promotional video for the machine. "I don't notice any lack of power, I don't even really know it's going on unless I look down and see the light that says it's in regen."
Inside the cab is a new color touchscreen providing operation parameters, performance and servicing diagnostics, Cat Control Cross Slope readings and DEF level. The cab also features a new keypad with one-touch buttons that replace the three-position switches on previous models. A rearview camera is standard and can display on the touchscreen or on an optional LCD screen above the rearview mirror.
Advanced control sticks are a retrofit option.
Servicing
In terms of servicing, Cat has extended key service intervals for the machine:
Engine air filter and pre-cleaners have twice the life.
Main hydraulic, pilot and transmission filters have doubled from 500 hours to 1000 hours when S•O•SSM sampling and Cat filters are used.
Transmission/rear-axle fluid-change intervals are extended from 1000 hours to 2000 hours with S•O•S sampling.
A service access configuration is available with ladders, walkways and handrails for more convenient access to the engine compartment from either side, Cat says.