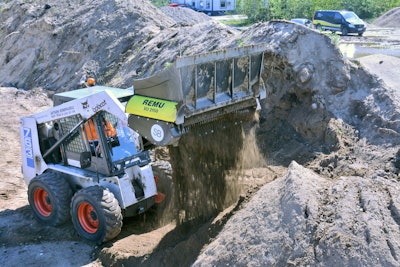 Quickly transition between different applications with Remu's Crossover screening bucket, which is a bucket frame with an exchangeable work module.
The bucket is part of Remu's modular buckets specifically designed for compact excavators and wheel loaders, which assists operators in easily switching tasks.
Enabling fast changes for different jobs, module changes can be achieved in as little as 10 minutes. Three modules will be available—the blade screen (SB) for screening topsoil, the screener crusher (SC) for grinding lumpy material and the vibrating screen (SV) for separating loose, dry materials and shaking waste and dirt from recyclable material.
"The XO bucket offers customers the chance to buy just one bucket for a range of applications," says Sean Herron, managing director of the company's UK-based Worsley plant. "The versatility and short changeover time makes it popular for smaller companies looking for an all-in-one solution."