Hyundai Construction Equipment has launched its new HL900 Series wheel loaders, which boost productivity by as much as 5 percent and use up to 10 percent less fuel that the previous 9A Series loaders.
Available models include the HL940, HL955, HL960, HL970 and HL980, which are suitable for a range of severe-duty applications such as roadbuilding, quarries and mines.
The wheel loaders are Tier 4 Final, and Cummins engines power the HL935, HL940, HL955 and HL960 models, while Scania engines power the larger HL970 and HL980 models. Both models achieve emissions compliance via SCR and DOC systems using DEF.
The wheel loaders can be equipped with a standard four-speed automatic transmission or an optional five-speed automatic transmission with lockup clutch for improved efficiency and heat reduction.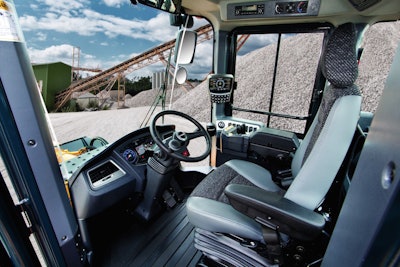 The HL900 Series has an enlarged cab that has been reconfigured to offer additional floor space and improved visibility, and is 10 percent larger than cabs on previous models. Features include a larger interactive touch-screen monitor, optional fingertip controls, fully adjustable and heated air-ride seat and centralized control switches.
The Eco Gauge provides a visual reference for fuel efficiency, total fuel consumption and average fuel data. An enhanced climate control system has a high capacity filter and additional airflow vents to boost cooling and heating efficiency, and is positioned on the right side of the cab for easy serviceability.
Options include a Smart Start ignition system for password or Bluetooth key-enabled machine start, programmable auto-engine shutdown available with the smart key control and electro-hydraulic fingertip control that delivers precision while reducing operator fatigue. The HL955 and larger models have available optional front locking differentials for improved machine control and tractive effort.
Safety features include large access steps, grab handles and upper guard rails, as well as ergonomically positioned operator switches and an improved rearview camera. The wheel loaders have a new tilt-back engine cowling design that eases access to the engine, coolers and related components, and a vertically stacked cooling design with improved air flow boosts efficiency and simplifies serviceability. Longer life brake discs are made from sintered material to improve both service life and braking effectiveness.
Additional models that include the HL935 and special configurations such as the Tool Master and Extended Reach will be available in the fourth quarter of this year.