Hyundai has taken the wraps off of its latest series of excavators and the company says the aim of the new machines is making high-end features a standard expectation.
Replacing the Hyundai 9A Series excavators are the HX220L, HX260L, HX300L, HX330L, HX380L, HX480L and HX520L. The 220 through the 380 are powered by Cummins engines while the two largest machines, the 480 and 520, are powered by Scania engines. Each engine meets Tier 4 Final standards through a combination of selective catalytic reduction (SCR) and diesel oxidation catalyst (DOC) systems using diesel exhaust fluid (DEF).
Thanks to the new engines, along with improved hydraulics, Hyundai says the HX Series machines are 10 percent more fuel efficient than the 9A series.
Operator comforts
But the big story with these new HX Series machines is definitely Hyundai's focus on improving ease of operation.
For starters, the cab on these new machines offers a 13-percent boost in leg room over the 9A series along with reduced sound levels and a more efficient and powerful climate-control system.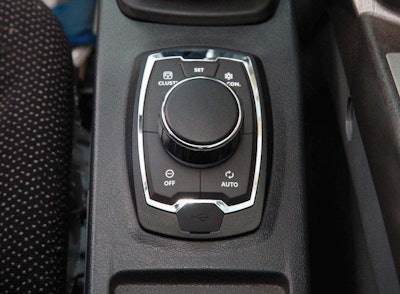 Inspired by the touchscreen entertainment setups found in many luxury automobiles, Hyundai has also included a new 8-inch touchscreen cluster monitor in the HX Series cab. Paired with this new monitor is a haptic control located near the right armrest. This control allows the operator to navigate the monitor's menus and provides tactile feedback through vibrations and pulses.
But that's just the beginning. The new HX excavators feature several more high-end features standard, says Hyundai marketing manager Corey Rogers. "Just as Hyundai automobiles are known for coming fully loaded with cutting-edge features and advanced creature comforts … the new Hyundai HX series excavators come packed with high-end features that are standard, not options," he said.
These include:
New heated operator's seat with air suspention
Bluetooth audio system
Hot/cold storage box
Miracast wireless functionality for viewing a movie device screen on the 8-inch monitor
Sunglasses compartment
Large storage box with retention net
The new cabs also allow operators to access a 360-degree virtual operating view, which displays on the monitor. Four cameras on the machine generate this 360-degree image which also integrates a moving object detection system, alerting the operator when anything comes within 16.5 feet of the machine.
Improved control
Hyundai has also worked to improve control and cycle times with the HX Series. A new Boom Float mode improves grading control while Fine Swing mode improves load control when swinging, resulting in a 13-percent boost in cycle times.
The machines also feature what Hyundai calls Intelligent Power Control which optimizes power based on the demand of the load and an Eco Breaker mode for selectable pump flow and improved fuel consumption when working with Hyundai hydraulic breakers and many other attachments.
Built to last
Enhanced reliability features on the HX Series include reinforced longer-life pins and bushings coupled with wear-resistant polymer shims and newly designed cab shock mounts with dual shock absorption for reduced vibration and noise.
Serviceability enhancements include ground-level access to the fuel filter and convenient exterior access to the cab air filter. Additional guard rails provide greater safety while performing maintenance and inspections on the upper structure deck.
Hyundai says smaller HX models and compact-radius models will be released in 2016.