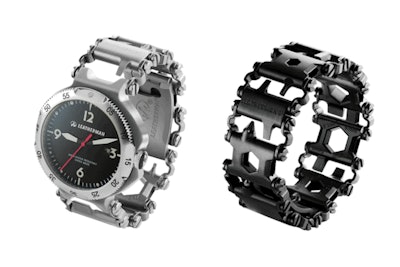 Leatherman has been making phenomenal multi-tools and knives for quite some time. And while the quality of tools like the Charge ALX multi-tool is unsurpassed, there's only one real problem: even though it packs 18 tools, you've still got to put it somewhere. It has to spend most of its time in a pocket or toolbox. Plus, you can't take one through airport security.

But what if you could have some of those tools, and many more, on hand all the time? Literally. That's what Leatherman has done with the Tread, a wearable multi-tool that packs 29 tools onto your wrist. And yes, it can be worn right through a security checkpoint without issue.
Basically, Leatherman took the idea of a link bracelet found on most stainless steel watches these days and blew it up, cramming up to three tools on each link. Below, you can see all 29 and where they fall on the Tread's links.
Even better, Leatherman is also offering a a watch face that you can pop in. Even an Apple Watch might not be able to do everything the Leatherman Tread can.
Leatherman says the Tread is "coming soon," with the watch face coming in the Fall. It will sell for between $150 and $200. You can sign up for an update when the bracelet goes on sale at the Leatherman website.