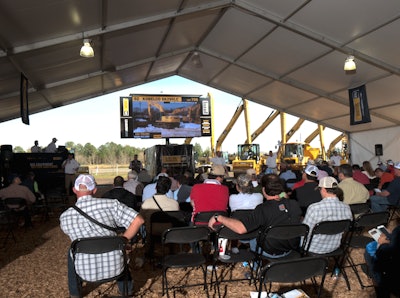 Still awaiting the completion of its merger announced in December, IronPlanet and Cat Auction Services held their first joint live auction last week in Kissimmee, Florida. We sat down with Jeff Jeter, president of the Americas for IronPlanet to go over how IronPlanet envisions this pending merger moving forward.
"Because the deal is not closed yet, this is technically a joint auction with IronPlanet and Cat Auction Services," Jeter says, saying he expect the merger to close this quarter. "We've had tremendous support especially from Cat dealers in the Southeast."
The sale, which went from Wednesday through Friday last week, had more than 100 sellers, more than 1,500 lots and equipment from 20 Cat dealers.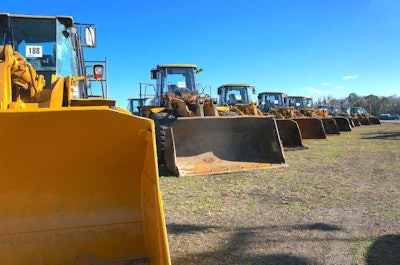 Cat, Volvo Construction Equipment and Komatsu America are minority investors in IronPlanet, which is also owned by investment firms Accel Partners and KPCB. "When CAS first started, we felt that Cat already had an auction channel with us, but there were some dealers who wanted to get in the auction business, primarily because they wanted to be able to keep those machines in the Cat channel for parts and service opportunities," Jeter says.
Created in 2008 by five Cat dealers, CAS eventually expanded its ownership to include 25 dealers and in 2012, Caterpillar corporate became an investor. During that time, IronPlanet continued to develop its online presence. "It just made sense to finally put the two together," Jeter says, "and we will still remain true to our online business model with our weekly sales."
To take advantage of the established Florida heavy equipment auction scene in February, IronPlanet says it will continue to produce CAS's live auction here each year. There will also be additional live events throughout the year, including one on March 24 in Des Moines, Iowa, with Ziegler Cat, and on April 23 in Denver with Cat dealer Wagner Equipment.
"I can see us doing 10 live sales a year," Jeter says, in addition to the sales conducted by its Kruse division. "In some instances there could be combined sales between Kruse and CAS." (Late last year, IronPlanet also bought oil and gas services specialty company Kruse Energy & Equipment Auctioneers.) Other possibilities for live sales include large contractors doing a complete liquidation of their equipment.
"It's a big market, and we want to continue to grow our share," Jeter says. "We'll look for other verticals such as Kruse and GovPlanet, but we still have to grow the core, and this is a great way to do that." Knowing that Cat dealers, independently owned, are not a lock, Jeter says "we clearly have to drive price performance at the lowest cost to sell. But the biggest thing for the Cat dealers is visibility of where these machines go back into the market.
"What we can bring to the live auction is our online buyers," Jeter continues. "If you look at our competitors — even CAS before now — their sales were ultimately driven by the people who were onsite. Now we can bring in our 1.3 million users to these events as well. We can bring the global marketplace to these events."
There is still no official word as to whether the CAS name will be used after the merger. According to the merger announcement, the CAS office in Eagan, Minnesota, will continue to operate as IronPlanet's Midwest office.
Earlier this year, International Construction Products' sued Caterpillar, Volvo and Komatsu, alleging they colluded to limit competition in the United States by blocking ICP's planned IronPlanet distribution channel through its merger with Cat Auction Services. IronPlanet is not a party in the lawsuit.
Humvees on display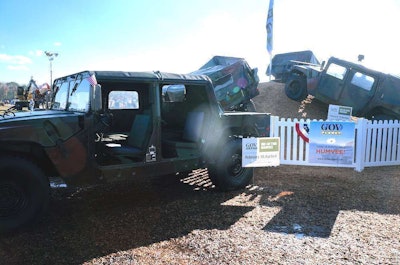 IronPlanet used the auction to also showcase its inventory on GovPlanet.com, where it sells military surplus, including the insanely popular Humvee. Jeter credits the Humvee inventory in part for attracting 111,000 attendees at the company's online GovPlanet auction, held December 17. This is comparison to the 15,000 registered bidders the company typically attracts in its weekly online auction.
A display of the decommissioned Humvees – which are not street legal – was positioned beside the company's auction tent, and will be sold in GovPlanet's online sale on February 18. IronPlanet continues to sell around 40 Humvees per week on GovPlanet; depending on condition, prices are typically between $20,000 and $41,000. "They have low mileage and have been well maintained, which is why they are so popular," says Randy Berry, senior vice president, operations and services, IronPlanet. "And the majority of our buyers were already registered IronPlanet users."