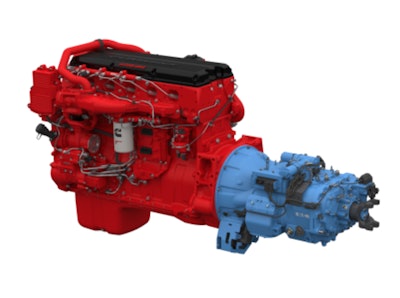 During a press briefing at the American Trucking Association's Trucking Maintenance Council annual meeting in Nashville Sunday morning, Eaton and Cummins announced that they will be building on their joint SmartAdvantage powertrain partnership by initiating even more profound levels of planning and integration.
Ryan Trzybinski, Eaton product planning manager, noted that more than 200 fleet customers nationwide are now spec'ing ISX15 SmartAdvantage drivetrains and realizing significant fuel savings as a result. He quoted Marcel Boisvenue, fleet maintenance manager, Kriska Transportation—a SmartAdvantage customer who said, "We went from 6.5 to 9.5 mpg just by handing drivers the key to a new truck. At 1,000 miles a day, that's a lot of money."
"The key here, Tryzbinski added, "Is that with the SmartAdvantage drivetrain, even new drives can perform like much more experienced drivers in terms of fuel economy."
The Eaton-Cummins SmartAdvantage powertrain has proven to be so successful, added Mike Taylor, Cummins Global Powertrain Manager, that the two companies will be continually refining existing products—and introducing new ones — soon.
"We have been refining the existing ISX15 SmartAdvantage to provide even smoother power delivery and improved low-end acceleration — always with an eye on driver comfort and productivity," Taylor noted.
Looking ahead, Cummins and Eaton are putting the final touches on the ISX12 SmartAdvantage—an integrated powertrain solution targeting regional haul applications. The technical work on the drivetrain is complete. At this point, Eaton and Cummins are waiting on the truck OEMs to finalize spec'ing requirements.
Moving forward, Eaton and Cummins plan on introducing a new, medium-duty integrated drivetrain based on the Cummins ISB6.7 Diesel engine and the new Eaton Procision dual clutch automated manual transmission. That powertrain is currently slated for a July launch.
The ISX12 G SmartAdvantage rounds out this powertrain family. According to Taylor, this is the only fuel-economy optimized powertrain on the market today designed specifically of natural gas applications.