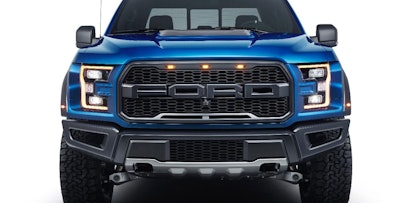 [imagebrowser id=169]
When Ford introduced a new design and aluminum body for the 2015 F-150, the only downside was the uncertainty the new F-150 cast over the future of one of the automaker's most successful truck models ever: the F-150 Raptor.
Though production of the Raptor has ceased temporarily, Ford made very clear this morning that it has no plans on doing away with the off-roading pickup when it unveiled the 2017 model at the Detroit Auto Show.
Slated to go on sale in the fall of 2016, the new Raptor has been updated to reflect the 2015 F-150's new design with an aluminum body and steel frame. The truck saves 500 pounds from previous Raptor models. The new Raptor has been completely reengineered an its body is 6 inches wider than the standard F-150.
The new truck also ushers in a new, second-generation 3.5-liter EcoBoost turbo V6 with a 10-speed transmission. That engine replaces the last generation Raptor's 6.2-liter V8 and though Ford didn't give specific numbers, the automaker says the new EcoBoost offers more power than the V8's 411 horsepower and 434 lb.-ft. of torque.
Rest easy in this craziness: this is the same engine that will power Ford's all-new, ridiculously gorgeous 2017 GT supercar.
The truck also boasts a new transfer case with "torque-on-demand" resulting in better traction on a greater variety of train at both low and high speeds. The truck's new Terrain Management System will allow drivers to select modes to tailor the truck's performance to the terrain at hand, inclining snow, mud, sand and more.
The 2017 Raptor will come standard with Fox Racing Shox suspension and the front and rear shock canisters have grown from 2.5 to 3 inches in diameter. A Torsen front differential is an available option, increasing front end grip significantly. You can view a full walkround of the truck in just 60 seconds in the video below.