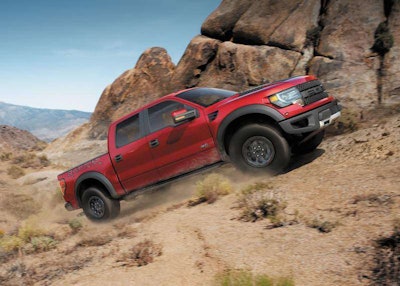 Ford is selling so many SVT Raptors that it's having to increase production of the popular off-road pickup.
According to a report from the Detroit News, sales of the Raptor are up 14 percent so far this year, achieving sales records in eight of the past 10 months. Because of that, Ford has increased production on the truck by 67 percent at its Dearborn Truck Plant. The plant is now churning out five Raptors per hour.
It's not so surprising to hear that the Raptor is doing well. The most recent model, the 2014 SVT Raptor Special Edition, boasts a 6.2-liter V8 pushing 411 horsepower and 434 lb-ft of torque standard. Beyond that, it's one of the cooler-looking trucks in recent memory and it can make 180-foot jumps over sand dunes.
However, because of a pretty prohibitive starting price of around $44,000, the paper reports that Raptor sales average at about 1,000 trucks per month—so the successful truck doesn't account for a huge chunk of Ford's F-150 total pickup sales by any means. Those sales topped 70,000 for the second time last month.
Also of note, the truck is very popular in China. And Ford doesn't even sell the truck there yet. Because of that, Chinese buyers pay up to four times the asking price on the gray market.