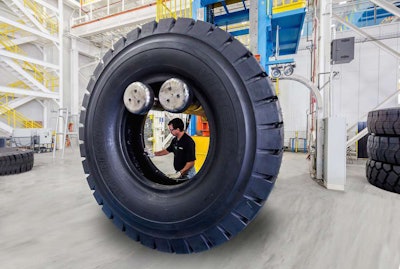 [imagebrowser id=154]
Bridgestone's Aiken County, South Carolina, location will now be the home of the company's North American giant off-road radial tire production, as the company opened a new 1.5-million-square-foot facility purpose-built to manufacture the company's largest tires.
Previously manufactured only at Bridgestone's Shimonoseki and Kitakyushu plants in Japan, the company says manufacturing large and ultra-large tires at the Aiken location will substantially reduce customer wait time.
The facility is closely modeled after the company's sister plants, says Adam Barfoot, operations leader, Bridgestone Americas' Off Road Radial. "If the plants have a similar footprint, it allows for improvements in one facility to be reproduced in the other," he says. "It's easier to replicate the process if one finds a better way."
The facility will manufacture tire sizes from 49 up to 63 and export to the Americas, says Kurt Danielson, president, U.S. and Canada Commercial Group. Although Danielson says the industry can be a volatile one, he says Bridgestone is investing while some other companies are pulling back. "The 63 is a difficult tire to build, technologically," he says. "And we have good demand for tires out west, in the oil sands, in South America and Brazil. We'll be poised and ready."
Once the plant is at full production, Bridgestone says 550 workers will be employed on a full-time basis at the plant. The facility meets LEED Silver standards by recycling 99 percent of production waste, using a rainwater harvesting system and maintaining a 400-acre longleaf pine habitat. The plant joins Bridgestone's passenger tire plant at the site, bringing the total number of employees at the Aiken site to approximately 2,000.