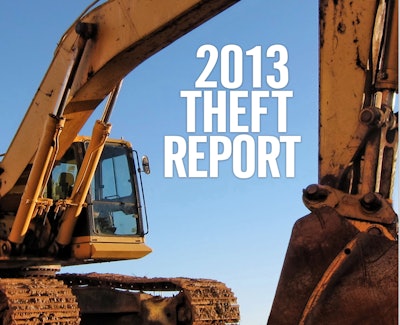 Nearly $300 million worth of construction and other heavy equipment was stolen in 2013 with only 21 percent of it recovered, according to the latest theft report from the National Insurance Crime Bureau and the National Equipment Register.
The majority of thefts occurred during the spring and summer months with August topping all other months with 1,305 thefts occurring during that month alone. Because availability is a factor in these thefts, it's not a surprise to see the peak months for construction activity accounting for the most thefts. The least amount of thefts, 590, occurred in February.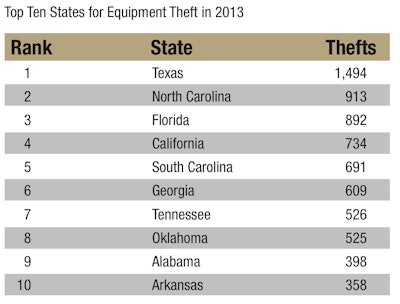 Texas led the top 10 states for equipment theft by a wide margin—1,494 thefts to no. 2 North Carolina's 913. The top U.S. city for thefts was Houston with 199, followed by Oklahoma City at 111, San Antonio with 82, Miami at 77 and West Palm Beach at 72.
The states with the highest volume of construction and agriculture have the largest number of thefts because that's where the most equipment is lying around. It's in these areas that organized theft rings are likely to develop.
According to the report, value and mobility are the two main factors that most heavily determined the type of equipment thieves are most likely to steal. The report adds that most equipment is taken from the jobsite rather than from a contractor's equipment yard.
With all of those factors considered, it's no wonder skid steers are the no. 1 most-stolen type of construction equipment. They're small, easy to resell and on just about every jobsite. (It also makes sense that lawn mowers are by far the most targeted machines, accounting for 45 percent of the entire report's thefts.)
Skid steers accounted for 61 percent of all loaders taken, with 1,171 stolen. Loaders were the most popular category of heavy machine among thieves also comprised of 595 backhoes stolen (31 percent of all loaders) and 154 wheel loaders taken (8 percent).
The tractor category accounted for the third-most number of thefts at 1,362 reported thefts, or 12 percent. The category is broad, including compact, utility and agricultural tractors.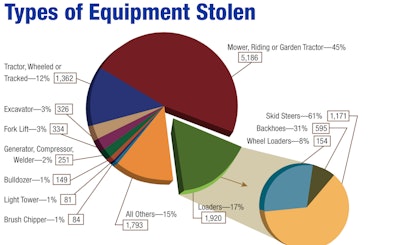 Excavators accounted for 3 percent of all thefts with 326 reported stolen. Next were generators, compressors or welders at 2 percent, with 251 reported stolen. Finally, bulldozers accounted for 1 percent with 149 reported stolen.
John Deere equipment was the brand most targeted by thieves with 2,445 thefts reported. Next was Kubota at 1,025, Bobcat at 721, Caterpillar at 679 and Toro, rounding out the top 5 with 364.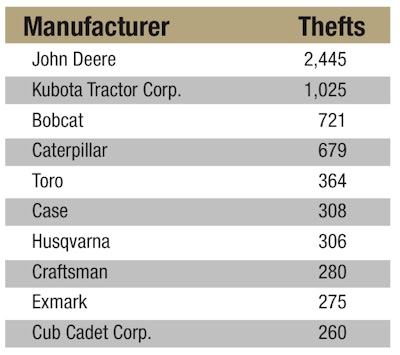 The most popular model year among thieves was 2013 accounting for 1,806 of the machines stolen. Next was 2012 at 1,411, 2010 at 880 and 2011 at 873.
When machines were recovered, most came in Texas at 330 or 22 percent of all recoveries; California at 302 or 41 percent; Florida at 179 or 20 percent; North Carolina at 119 or 13 percent and Georgia at 100 or 16 percent.
With only 21 percent of all machines stolen in 2013 recovered, a technology like telematics, which provides the location of a machine at all times, even more of a no-brainer. In addition, the report encourages equipment owners keep accurate lists of all their equipment with PIN/serial numbers and submit them to law enforcement, their insurers, and the National Equipment Register as soon they discover a theft.
"And when they purchase equipment, owners should register serial numbers in the NER database, so that the information is available to law enforcement 24 hours a day," the report reads. "In the event of a theft, law enforcement can identify the equipment, even during weekends or at night."
You can browse a full copy of the theft report by clicking here.