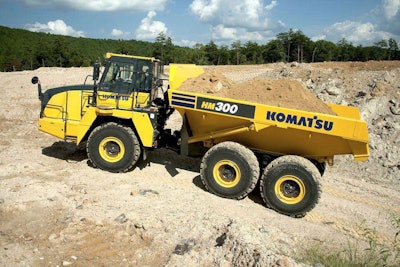 Komatsu focused on reducing operating cost with the development of the company's HM300-5 articulated dump truck, which features an EPA Tier 4 final SAA6D125E-7 engine that delivers 324 net horsepower.
With integrated Selective Catalyst Reduction, the engine reduces NOx emissions using AdBlue DEF. The engine's electronic control system manages parameters including the airflow rate, fuel injection, combustion and aftertreatment functions, reducing fuel consumption without lowering performance.
Performance features
The 117,892-pound HM300-5 has a 30.9-ton payload capacity, and features a 9-foot 2-inch loading height to match either 30- to 60-ton hydraulic excavators or 5- to 7.5-cubic-yard wheel loaders. The ADT has two single-staged body lift cylinders that deliver a 70-degree dump angle, and selectable working modes enable the operator to choose either economy or power mode.
The HM300-5 has Komatsu's Traction Control System, which provides the correct traction for operation in soft ground. Speed sensors located on four wheels detect tire slippage, and automatically apply the inter-axle-lock. As tire slippage worsens, independent brakes can be applied for additional traction.
Komatsu's K-ATOMiCS, or Advanced Transmission with Optimum Modulation Control System, is a six-speed automatic transmission that features an electronic system that eliminates shift shock and torque cutoff, improving efficiency. The system uses vehicle speed, engine rpm and shift position to automatically select the appropriate gear, ensuring smooth downshifting and synchronized engine speed during slope climbing.
An automatic retarder enables the operator to select the optimum operating speed for loaded hauls and downhill travel, and eliminates acceleration generated by the slope grade. A standard integrated payload meter displays the loaded material weight on the HM300-5's LCD monitor, as well as payload information to the loader's operator through the use of external display lamps. The data is also transferred via KOMTRAX.
Creature comforts
The HM300-5 features a large, quiet, comfortable cab that features ROPS/FOPS level 2 certification. The cab includes a redesigned rounded front dash panel, easy-to-reach switches, a heated air ride seat with a three-point seat belt and an easily accessible dashboard with access to all machine controls.
The monitor displays information in 25 languages, and allows the operator to easily modify settings for the auto idle shutdown or auto reversing fan. The monitor also enables the operator to check machine records or maintenance intervals. An auxiliary input enables the operator to connect a smartphone or other device.
Easy serviceability
To reduce downtime, the HM300-5 has easy access to service points, and features a lightweight fiberglass engine hood. The cab tilts rearward to simplify transmission access, and an electrically powered tilt function. Two standard hydraulically driven auto reversing fans keep the radiator and charge air cooler clean.
The ADT is equipped with Komatsu's Equipment Management Monitoring System, which has enhanced diagnostic features; KOMTRAX remote monitoring technology, which allows data access via the web or smartphone; and Komatsu CARE, the company's scheduled maintenance program.