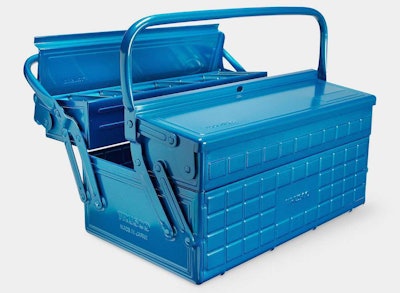 In an age of plastic boxes and tool bags made of various composite materials, a steel tool box like the Trusco Deluxe is a reminder of how we got some things right the first time.
Beyond its striking blue exterior and timeless design, the Trusco Deluxe will keep your tools and other supplies better protected and more organized than most other boxes and bags. Each side of the stamped steel design opens in one smooth motion and contains several cubbies for keeping things in their proper place. The dividers forming the cubbies can even be adjusted to fit whatever you might need to throw in.
The box was designed by Keiyu Hisashi in 1947 is goes for $110 on the Museum of Modern Art store site.