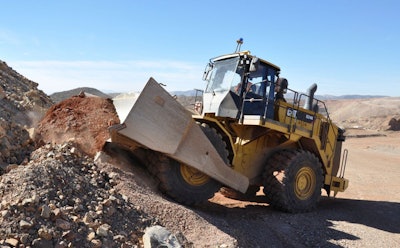 [imagebrowser id=130]
Caterpillar has launched its new 824K wheel dozer, featuring powertrain, cab and serviceability improvements.
The new 824K is powered by Cat's C15 ACERT engine, producing 405 horsepower. The machine has a maximum operating weight of 74,966 pounds and is available with six blade configurations ranging in capacity from 6.6 to 21.1 cubic yards.
Cat says the new C15 ACERT engine improves the wheel dozer's fuel economy, top speed and drive train efficiency thanks to a new lock-up clutch in the torque converter which reduces drive train power losses and system heat. The engine also features an electronically controlled fuel delivery system as well as a smart engine idle system which will shut down the engine to limit idle time in order to save fuel. The engine idle system has a delayed shutdown feature that can be engaged to ensure the engine isn't stopped until operating temperatures have stabilized.
The 824K also features Cat's 4F/4R power shift transmission which allows the operator to set the machine to automatically upshift or downshift based on machine speed. The machine's left foot pedal serves as an engine decelerator, transmission neutralizer and brake depending on the degree of the application at hand.
Caterpillar has also outfitted the 824K with a larger fuel tank the company says provides a minimum 12 hours of uptime.
In addition to Cat's single-lever STIC controls, the 824K features several cab improvements. The new cab is pressurized with filtered air and climate control and now has lighted, less-steep stairways. The 824K cab also features a more comfortable seat and the ability to adjust the position of the STIC lever control or fold it up to make leaving the seat easier.
Routine maintenance points are accessible from ground level or from non-skid walkways protected by handrails on the machine. The engine compartment is outfitted with swing-out doors. The machine also features a ground level power service center with electrical disconnect, emergency engine shutdown and stairway light switches.
You can see quick specs for the 824K below.