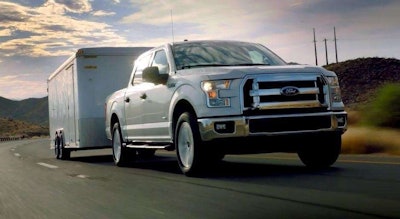 It wasn't that long ago a 2.7-liter V6 with a compacted-graphite-iron (CGI) block, twin turbos, reverse-flow cooling, split-mains, variable-displacement oil pump, deep-sump oil pan and direct-injection making 325 horsepower would be something seen only in race circles.
But here we are today looking at exactly that engine going under the hoods of Ford's 2015 F-150s: the 2.7-liter EcoBoost V6.
The newest EcoBoost is a marvel in engineering and design, and it packs more punch from its diminutive 165 cubic inches than Ford's own 5.4L Triton V-8 that was the go-to engine in the F-150 a decade ago.
Heck, with 325 hp and 375 lb.-ft. of torque on tap, it packs just 5 lb.-ft. and 45hp less than the current 5.0-liter F-150 V8; 10 lb.-ft. less torque and 8 hp more than Nissan's Titan 5.7-liter V8; 30 less ponies and 8 lb.-ft. less than the 5.3 General Motors V8s and 85 hp more than the Ram EcoDiesel V6 while giving up 45 lb.-ft. in torque.
That's impressive muscle from a gas V6.
Now for those who are old-school V8 lovers that still stand firm by the "there's-no-replacement-for-displacement" mentality, it's time for old dogs to learn new tricks. I did.
Here's the deal: When Ford rolled out the 3.5-liter EcoBoost V6 in 2011, the way we looked at the world of pickup gas V8s changed dramatically. That's when the light went on that twin-turbo'd, small-displacement V6s can, indeed, stand cylinder-to-cylinder with small-block V8s and kick their butts when used in pickups.
The new generation of Ford's turbo'd V6 pickup engines deliver the torque down low and pull as hard, if not harder, than their naturally-aspirated small-block V8 brethren, all the while delivering the kind of fuel economy one would expect from an engine with two less cylinders.
Now you add in the other performance factor: weight. The aluminum-body 2015 F-150s scales 732-pounds less than the current models, which helps make the 2.7-liter such a promising power package for a half-ton.
During Ford's press briefing and walk-around earlier this week, I talked with Ed Waszczenko, the 2.7L EcoBoost's lead engineer, who said customers are going to be "surprised by its performance." With the numbers Ford has shown for this engine, I am sure they will.
In addition to the CGI block, which doesn't need cylinder sleeves like the aluminum-block 3.5L EcoBoost, Waszczenko pointed out the die-cast aluminum ladder frame cradles the block to form a very rigid and robust block assembly. That translates into durability over the long haul.
He also directed our attention to the twin turbos and how they are mounted directly to the exhaust manifolds. That positioning, an EcoBoost trademark, allows for rapid spool-up and the ensuing flat torque curve reminiscent of a diesel.
"We designed the architecture to deliver what truck owners want, which is low-end torque," said Waszczenko. The 2.7-liter's big brother, the 3.5-liter, is proof of that.
And like the 3.5-liter EcoBoost, the 2.7-liter's design also incorporates reverse-flow engine cooling so the heads and turbos get cooled before the block, allowing for quicker warm-up time, better fuel and power efficiency, and overall better durability than would be afforded by conventional cooling. (The twin turbos are also oil-cooled.)
Another aspect that I was surprised to learn about the 2.7-liter EcoBoost is how quiet it is for a direct-injected engine, which are, by their nature, notoriously loud. One of Ford's F-150 engine team said a bonus benefit of a CGI block is that it's a poor conductor of sound. So the internal goings-on and the hammering of the fuel injectors are naturally muffled inside the new engine.
As for fuel economy, Ford is still awaiting the confirmation and certification of numbers from EPA testing. Those mpg figures should be available by early Fall. However, Ford engineers feel the little EcoBoost will be a fuel economy pace-setter in the half-ton pickup market. I suspect the numbers to be in the mid- to upper 20s for city/highway.
Will the 2.7-liter Ford Ecoboost be the best choice for every customer? No. But for fleet owners it very well may be. With a tow rating of 8,500 pounds and a load capacity of 2,250 pounds, it'll meet a lot of light-duty work needs.
I see the 2.7-liter EcoBoost as the ideal F-150 engine package for occasional trailer towing or for those towing trailers less than 5,000 pounds, which is right up a landscaper's alley.
If the towing needs are more frequent and pushing above 5,000 pounds on a regular basis, then the 5.0-liter V-8 or the 3.7-liter EcoBoost would be the better engine options. If towing really isn't a part of your F-150′s tasks, then the equally new 283 hp, 3.7-liter V6 is going to be the white fleet's engine of choice; that 24-valve V6 will be the new base engine for the 2015 F-150.