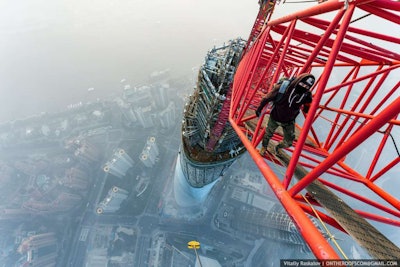 No. 11 Story in 2014
[imagebrowser id=32]
Not to be outdone by the crane operator on the very same jobsite, two Russian "urban ninjas" broke into the construction site of China's Shanghai Tower and grabbed some pretty ridiculous photos of their own.
But these two daredevils also took some video—as they climbed up a crane about 2,100 feet in the air. When completed, the tower will be the tallest in China and the second-tallest in the world.
The "ninjas," whose real names are Vadim Makhorov and Vitaliy Raskalov, made the climb on January 31. As Raskalov detailed in a blog post documenting the highly illegal climb, the two chose that date because they thought security would be more lax since it was Lunar New Year's Day, a national holiday in China.
Raskalov said it took two hours for the pair to make the hike via stairs to the building's 120th floor. From there—and without safety harnesses—they scaled the crane to the very top. When they got to the very top, the two were forced to sleep there for 18 hours, Raskalov writes, in order to wait for better weather to make their way down.
You can watch video below—as someone whose not afraid of heights, but acutely afraid of falling, my stomach sank while watching it—and check out the duo's amazing photos in the gallery above.
[youtube gLDYtH1RH-U nolink]