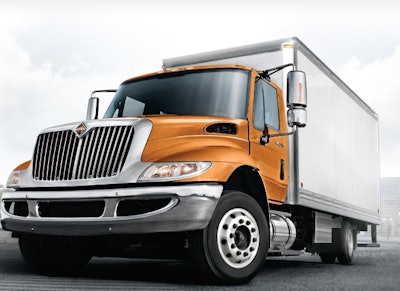 During a Tuesday afternoon press conference, Navistar announced that it has expanded its medium-duty engine offerings to include the Cummins ISB 6.7-liter engine.
The Cummins engine will be available for International DuraStar medium-duty trucks and IC Bus CE Series school buses.
The move makes the DuraStar trucks and CE Series school buses Navistar's first medium-duty vehicles with Selective Catalytic Reduction (SCR) emissions aftertreatment technology.
Jack Allen, Navistar executive vice president and chief operating officer, called the move a "key strategy", noting that the ISB "will be a catalyst as we look to improve our medium-duty truck and bus business in 2014 and beyond."
Navistar announced that it has already begun taking orders for trucks and buses with the Cummins ISB, saying that the initial truck builds will begin later this month. Regular production for trucks with the ISB is scheduled for December while regular production for CE Series school buses is scheduled for late-January 2014.
Bill Kozek, Navistar's president for its North America Truck and Parts division, said the move was fueled by medium-duty customers' "familiarity and confidence" in the Cummins engine. Providing more incentive was the experience Navistar has in packaging and manufacturing medium-duty trucks with the Cummins ISB through its Ford Blue Diamond joint venture which began in 2010.
"Customers seeking commonality in their engine line-up have expressed significant interest in combining the Cummins ISB engine with our chassis and we anticipate strong demand and orders as a result," Kozek said.
When asked during the press conference whether this move meant Navistar will cease making engines, Kozek said no. Kozek said Navistar will continue to offer Exhaust Gas Recirculation (EGR) medium-duty engines as well.
Navistar officials said the company will announce the next steps of its mid-range SCR engine strategy at a later date. In the meantime, Navistar will continue to offer EGR-only versions of its mid-range engines utilizing its medium-duty emissions credits.