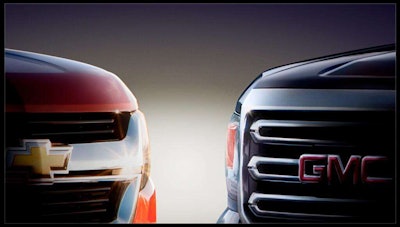 Last month we showed you a few spy shots of the currently-in-testing 2015 Chevrolet Colorado and GMC Canyon compact pickups. Based on those shrouded test trucks, we were able to envision a redesign that shared quite a bit in common with the full-size Silverado and Sierra.
And now, thanks to the above teaser photo tweeted out by Chevrolet yesterday, we have a little more evidence of that.
We're only getting the top corner of the grilles here, but it's pretty clear that the grille designs and front-end lines of both the Colorado and Canyon will look similar to their bigger siblings.
As we told you last month, General Motors aimed to beef up the designs of its compact pickups. It's a design choice part of a larger plan to convince truck buyers that these smaller pickups can do 95 percent of the work a full-size pickup can—a sales pitch aimed at younger outdoorsy types as well as construction professionals and those in the trades looking for a capable pickup with good fuel economy.
The teaser tweet also cleared one other thing up: It was unclear for a time whether or not GM was going to keep the names Colorado and Canyon. The Chevy tweet used both so it looks like they're here to stay.