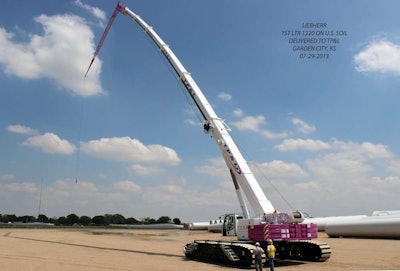 The first Liebherr LTR 1220 telescopic boom crawler crane in North America has been put to work in Kansas.
The LTR 1220 boasts a rated lifting capacity of 242 tons and a 197-ft telescopic boom, making it the largest on the continent. It is powered by a 312 hp diesel engine, providing torque of 960 lb-ft.
The lucky company putting the crane into action is Transportation Partners & Logistics. TP&L received the crane July 26. The company is using the crane to unload wind turbine mast sections off of rail cars before loading them onto trucks.
While telescopic boom cranes are usually on rubber tires, and crawler cranes with lattice booms, the hybrid telescopic crawler concept offers the advantages of quick set-up with the power of a crawler body. No assist crane or team of riggers are needed to assemble the crane, and the boom can stay on for transportation when the job is done.