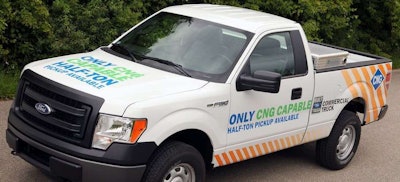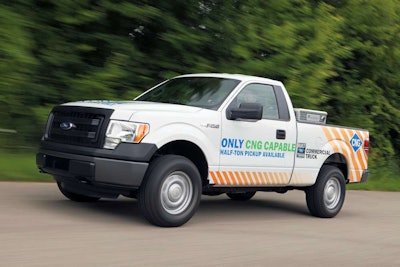 Beginning this fall, Ford will offer a prep package on the 2014 F-150 that allows the truck to run on compressed natural gas (CNG), liquified petroleum gas (LPG) and gasoline.
The F-150 will be the only CNG/LPG-capable half-ton pickup on the market and will be capable of driving more than 750 miles on one tank of gas, depending on the tank size selected as part of the prep package.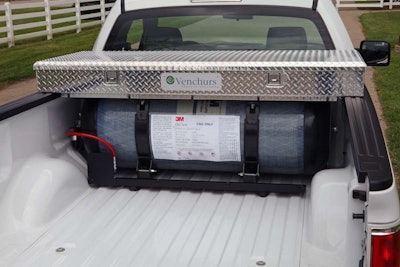 Ford says that works out to about 23 miles per gallon on the highway.
The package is factory-installed and includes hardened valves, valve seats, pistons and rings allowing it to operate on either natural gas or gasoline through separate fuel systems.
The move is based on the success Ford has seen with natural gas on its commercial vehicles. Jon Coleman, Ford's fleet sustainability and technology manager said that the automaker has received requests from businesses and fleet customers for the option.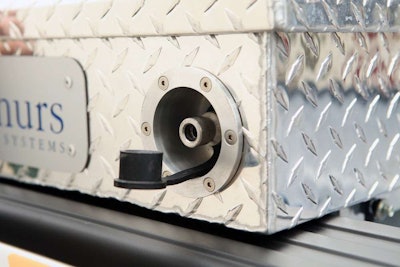 The CNG/LPG prep kit plus upfit—a Ford Qualified Vehicle Modifier will supply fuel tanks, fuel lines and unique fuel injectors—will cost an additional $7,815 to $9,815, again depending on the size of the fuel tank you go with.
That additional upfront is nothing to simply brush off. But, because of the stability and lower cost of CNG prices—the fuel sells for an average of $2.11 per gallon of gas equivalent, and in some parts of the country is as cheap as $1 a gallon—Ford says the package pays for itself in savings.
"With the money saved using CNG, customers could start to see payback on their investment in as little as 24 to 36 months," Coleman said.
The F-150 will be one of eight commercial vehicles offered with a CNG/LPG option, joining the Transit Connect van and wagon, E-Series van, F-Series Duper Duty trucks, F-650 medium duty and the F53 and F59.
You can read more about CNG and the fuel's potential for return on investment for fleets in Tom Jackson's in depth ROI piece by clicking here.