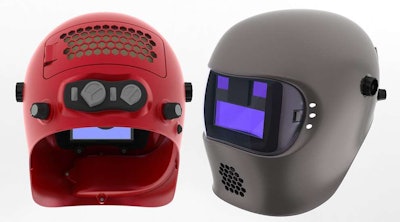 Popular Science has tapped an innovative new welding helmet as one of its 2013 Invention Awards winners.
The Windmaker, developed by metalworker Michael Buckman, has been in the works since 1999 when Buckman inhaled so many noxious fumes in the first 30 minutes of a new job at an aluminum factory that he was in the hospital for three days with bronchitis.
The ordeal inspired him to create the Windmaker, a welding helmet that draws in air through the back, and pushes it through a HEPA-rated filter for the wearer to breathe. And because the air is being circulated into the mask by a fan, the helmet also offers the benefits of cooling the skin and preventing the faceplate from fogging.
The Windmaker also expels air pushing smoke away and has LED lights along the faceplate that illuminate the work area.
In all the mask has cost $200,000 to develop. And while several companies are interested in bringing it to market, its air-filtering capabilities must be tested by the National Institute for Occupational Safety and Health. You can check out a development video of the Windmaker below.
[youtube qhFydKsE39U nolink]