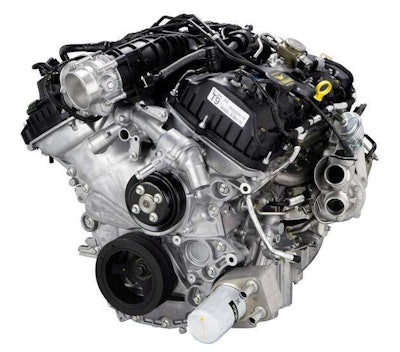 In recent years, as engine technology has advanced and consumer demand for more fuel-efficient cars and trucks has grown, more and more automakers have made the decision to downsize from V-8 engines to V-6 engines when it comes to their trucks and SUVs.
Most notable among the automakers is Ford, who made the gamble of replacing the V-8 inside the F-150, the best-selling truck in the world, with its new 3.5-liter EcoBoost V-6. Ford has also replaced the Explorer's V-8 with the EcoBoost.
The reasoning behind the move is simple: Ford says they've figured out a way to deliver V-8 power in a V-6 package, therefore saving fuel. And though the move is certainly controversial among truck owners, Ford recently said that it's been very pleased with the take rate of the EcoBoost F-150.
And, as a new article from Truck Trend notes, Ford isn't alone. GM has replaced its 4.8-liter Vortec V-8 as the standard engine in the Chevy Silverado and GMC Sierra with a 4.3-liter EcoTex3 V-6. Chrysler, Audi, Volkswagen and Land Rover are all downsizing too.
But we want to know what you think? Is downsizing from V-8 to V-6 in pickups the right direction? Or is all this besides the point because diesel is where you think the time should be spent? Answer in our poll below. And let us know why you feel that way by scrolling down to the comments.