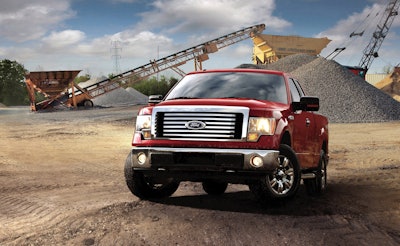 Each year, Vincentric awards automakers with its Best Value awards in both the fleet and consumer markets. This year, when taking the honors awarded for pickup trucks in both segments into account, Ford got just a bit more recognition than rival General Motors, picking up a couple of truck category wins and the award for best truck brand in America.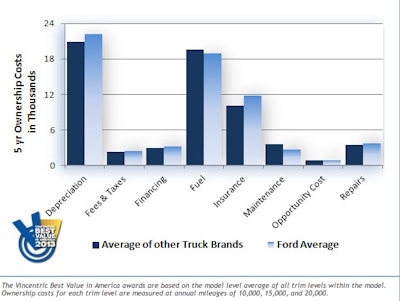 To the right you'll see the average costs of ownership for Ford pickups. While there was close competition between Ford, GM and Ram for the title of best brand value, Vincentric says the popularity of the F-150 puts Ford over the top, adding "the solid performance by the full F-Series lineup and its strong fuel economy helped drive the Ford win."
The F-150 made an impressive showing, picking up the Best Value awards for half-ton pickups in both the consumer and fleet markets. On the consumer side, this is the F-150's third win in a row and Vincentric says the win is driven by the truck's low fuel and insurance costs.
Despite Ford's strong overall showing, GM's Chevy Silverado and GMC Sierra actually landed more individual truck awards with to the F-150's two. Vincentric feels its the heavy duty, 3/4- and 1-ton models where the Silverado/Sierra shine. On the consumer side, the Silverado/Sierra 2500HD models took the award for best value among 3/4-ton pickups mainly due to their low depreciation.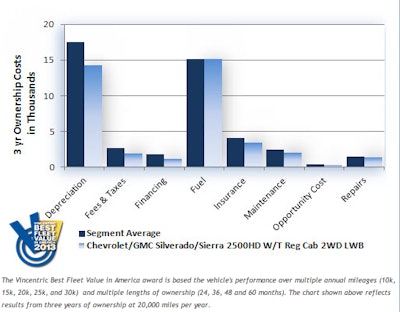 Meanwhile, the GM 2500HD combo picked up its fifth consecutive best value award among 3/4-ton pickups in the fleet segment "by winning 19 of the 20 lifecycle scenarios measured." You can view a chart of a few of those measures to the left. And for the third year in a row the GM combo took the fleet honors for best 1-ton value due to their "low depreciation, insurance, maintenance, and repairs costs."
Finally, Ram's 3500 took Vincentric's best value among 1-ton pickups in the consumer segment, because it had the lowest maintenance costs in the class "and was among the lowest in fuel and repair costs."