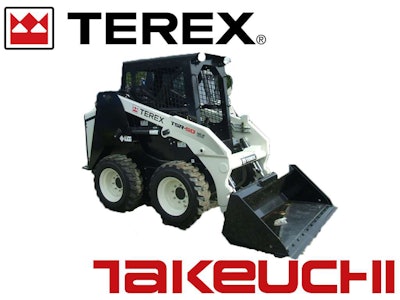 Terex Construction announced today that it has entered into a partnership with Takeuchi Manufacturing, U.S. in which Terex will supply Takeuchi with eight new models of skid steer loaders.
Mark Luttmann, Terex sales operations manager at Terex Americas, said Tuesday morning that he would not disclose specifically how long the two companies have been in talks but that discussions over the partnership had taken place "for a while."
"The deal is good both of us," Luttman said.
In a statement, Takeuchi U.S. President Clay Eubanks said Terex was selected to supply the new skid steer loaders "after an extensive review process."
Terex will supply Takeuchi with vertical and radial lift skid steers, a product Takeuchi's current lineup is without. Takeuchi currently offers wheel loaders, compact track loaders and excavators in the U.S. The new skid steers will range in operating weight from 6,500 to 8,600 pounds with a rated operating capacity from 1,500 to 3,000 pounds.
The new skid steers will be Takeuchi-branded and, according to the announcement, Takeuchi will handle sales, rental and parts supply as well as customer support for the new skid steer loaders.
"We will support our customer's parts and service needs in the same way as we do our other products today," Eubanks said.
As far as the benefits for Terex go, Terex Construction Americas and Global Aftermarket vice president and general manager Dean Barley called the partnership "a great opportunity to leverage our manufacturing operations in Grand Rapids, Minnesota, and drive additional operational efficiencies through our whole production and supply chain."