Caterpillar reported what is says is its "best quarter in history," and the equipment manufacturer also raised its 2012 profit outlook. (For the Q2 2012 results webcast, click here.)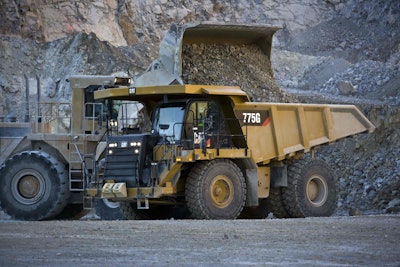 The Peoria, Ill.-based equipment manufacturer today announced second-quarter 2012 profit per share of $2.54, which the company says is "an all-time quarterly record." Cat has also seen a 67-percent increase from second-quarter 2011 profit per share of $1.52.
Sales and revenues were $17.374 billion, also "an all-time record," according to Cat, and a 22-percent increase from second-quarter 2011 sales and revenues of $14.230 billion. Profit was $1.699 billion in the quarter, an increase of 67 percent from $1.015 billion in the second quarter of 2011.
After the layoffs and furloughs for its plant workers during the past few years, this is good news.
As a major player in the equipment market, this might be a sign that things are turning around. We could all use some good news when it comes to the economy.
"I am very pleased with Caterpillar's record-breaking performance in the second quarter," said Caterpillar Chairman and Chief Executive Officer Doug Oberhelman in a written statement announcing the company's financial results.
Oberhelman attributes the financial success to the company's employees, dealers and suppliers for "doing a superb job of executing [Caterpillar's] strategy."
He also notes that the company's global footprint, the breadth of industries it serves and its extensive line of products and services have helped Cat achieve these financial results during a time of heightened economic uncertainty.
"Caterpillar's success in 2012 is occurring despite U.S. construction activity that remains depressed and well below the prior peak, the problems facing Eurozone economies and economic concerns in China," Oberhelman said in the written statement. "While we're expecting a record year in 2012, we understand the world is facing economic challenges, and if it becomes necessary, we are prepared to act quickly as we did in late 2008 and 2009. While we're prepared, the good news is, this doesn't feel like 2008. Interest rates are low, central banks are prepared to inject more liquidity if needed, and housing is coming off lows, not a peak, and seems to be improving."
It's comforting that Oberhelman is confident that the market is improving. Let's hope other companies in the construction sector have this financial success.
If you want to hear it straight from Cat, here's a video from Cat Group President and CFO Ed Rapp as he discusses the second-quarter 2012 results. I'm curious about your thoughts. Do you think these financial results means things are looking up?