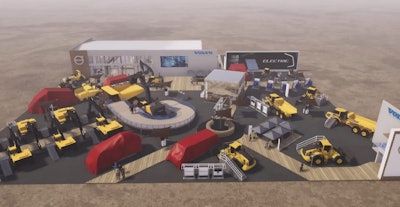 Volvo Construction Equipment has unveiled further details of its 60,000-square foot ConExpo booth, located at F3432 in the new Festival Grounds.
Working under the theme "Building Tomorrow," the Volvo display will feature a central ramp leading up to the operator stations in both its largest-in-the-lineup EC950F excavator and its R100E 100-ton rigid hauler (a Tier 4 version of which will be on display at the upcoming MinExpo).
(You can see more of what OEMs have in store for ConExpo 2020 in our show preview page by clicking here.)
In another area of the booth, attendees can operate Volvo CE's electric machines, the L25H compact wheel loader and ECR25 compact excavator, introduced at Bauma last year.
The company will also reveal two new concept models that Volvo says will give a glimpse of where it's taking connected, electric and autonomous machines.
Welcoming visitors into the booth will be an "excavator alley," featuring both wheeled and tracked machines. "We wanted to create a pull into our booth, with excavator boom and arms over the sidewalk as visitors walk through," says Dave Foster, vice president of marketing and communications, for Volvo CE's North American operations.
Also on display will be the Volvo's "Gold Rush"-badged excavator, accompanied by personalities from the television series, which is now in its 10th season. The machine will be sold next month at the Ritchie Bros. Orlando auction, with proceeds going to two charities.
Volvo will also showcase its new EC300E hybrid excavator, now available in North America, featuring an hydraulic assist, which the company says offers the potential for up to 15 percent fuel savings. (More on this in a later post.)
Also debuting are Volvo's 8-foot class P5110B tracked and P5170B wheeled pavers, fitted with a large capacity hopper for continuous paving and rolled wings to help prevent material build-up and cut cleaning time.
Volvo has shared the following video on its ConExpo presence: