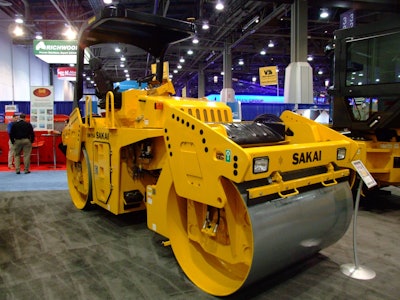 Sakai launched its new 67-inch vibratory tandem-drum roller, the SW754, at the 2017 ConExpo show in Las Vegas. The machine adds to the company's 770 series and is designed for subbase and base layers, coarse graded asphalt mixes and thick asphalt lift compaction.
The SW754 features a Tier 4 Final 3.8-liter Kubota engine that can run up to 10 hours without refueling, the company reports. It offers a range of vibration/amplitude settings, from low vibration at 2,500, 3,000 and 4,000 vpm to high vibration at 2,500 or 3,000 vpm.
Sakai says it designed the vibration and driving system control to remain simple, as operators can choose from three throttle positions. The company also improved maintenance on the machine by "centralizing" locations for common maintenance items and easier access to the engine compartment.
The machine also features clearance at the curb of 35.4 inches and at the sides of 3.2 inches. The maximum operating weight with the rollover protection system (ROPS) is 22,939 pounds. The front axle load is 10,373 pounds and the rear axle weight is 11,563 pounds.