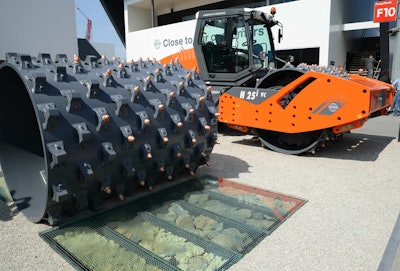 At ConExpo-Con/Agg, Hamm will introduce a one-of-a-kind product, a Tier 4 Interim dirt roller that has been transformed into a concrete breaker by the addition of specially designed bits or teeth to the single drum.
The highly engineered new H 25i VC is a single-drum vibrating compactor outfitted with teeth that will shatter concrete more effectively – and at lower cost – than special-purpose guillotine, "finger" or ultrasonic concrete breakers.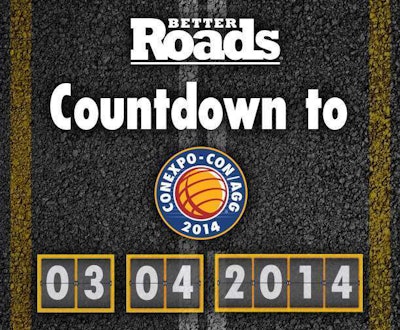 The teeth or tools on the H 25i VC drum allow the compactor to simultaneously crush and compact a whole variety of construction materials and minerals. A patented quick-change toolholder system makes it possible to use very different tools.
These specially developed point-attack cutting tools are ideal for crushing or relieving stress from stone, as well as for preparing tracks through rock. But they also can be fitted with special padfoot shells, which transform the VC compactor into a padfoot roller.
The design of the quick-change toolholders is both sophisticated and ergonomically functional. It ensures that tools can be replaced quickly, minimizes the tendency to retain debris, and can be cleaned without difficulty, Hamm says.
See it at Wirtgen America's booth No. 51021 in the Central Hall, or visit wirtgenamerica.com.
To read more about ConExpo-Con/Agg products, read the January print issue of Better Roads.