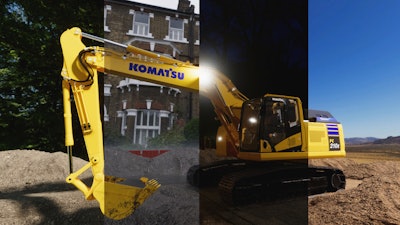 Komatsu
Komatsu has announced plans to display a variety of earthmoving products at the 2023 ConExpo-Con/Agg.
The show will feature 1,800 exhibitors and 150 education sessions March 14-18 at the Las Vegas Convention Center and Festival Grounds.
The Las Vegas Convention Center has upgraded its facilities since the last show, adding the new 1.4-million-square-foot West Hall exhibit area and the Diamond Lot.
According to ConExpo-Con/Agg organizers, the West Hall will house earthmoving exhibitors, including Bobcat, Case Construction Equipment, Hitachi Construction Machinery, Hyundai Construction Equipment, Komatsu, Wacker Neuson and more. You can see more of what other OEMs have in store for ConExpo 2023 on our show preview page by clicking here.
Working under the theme of "Creating Value Together," the Komatsu booth in the West Hall at W42044 will focus on showing off the company's latest technologies and products, digitalization and electrification. Equipment, technology and service solutions on display will address construction, energy and utility, forestry, quarry, smart construction and sustainability.
Through a variety of demonstrations of these products and technologies, attendees will learn at the booth about how Komatsu can assist in the optimization of fleet and workforce capabilities, extending the life of machines, safe operation as a priority to reduce downtime, leveraging new technology to improve efficiency and productivity, conservation of resources, and employee retention through the right training and latest technologies.
The company will show off its sustainability/electrification roadmap, unveil its latest technological upgrades and offer more detailed insight into how its products can benefit workforce optimization.
In addition, Komatsu will lead an educational seminar on March 17 at ConExpo focused on the digital transformation of the job site.
Product offerings
Coming only a few months after Bauma 2022, Komatsu will once again be showcasing its new 20-metric-ton class all-electric hydraulic excavator, the PC210E. The machine is scheduled to be introduced to Japanese and European markets in 2023. Powered by lithium-ion battery technology from U.S.-based Proterra, the machine is viable for use in numerous work environments without worrying about noise and exhaust emissions.
Additional excavators Komatsu will show include the PC900LC and the HB365LC-3 hybrid model. Both are Smart Construction Retrofit. Designed to improve grading performance and provide more time- and cost-management tools, Smart Construction Retrofit kits can bring 3D guidance and payload monitoring to most Komatsu excavators in a fleet.
Also, the PC360LCi-11 intelligent excavator will be displayed. Komatsu has added the second generation of its intelligent Machine Control platform, the factory-integrated, semi-automatic operation technology, to the machine. This combines the high productivity of a bulk earthmoving excavator with the accuracy of iMC 2.0. Due to the technology, fewer machine cycles are required, and operator performance is improved, with reduced risk of rework, lower fuel costs and increased machine utilization, the company says.
In terms of grading, the D71PXi24 mid-size dozer will be highlighted. Featuring iMC 2.0, the machine learns as it works, collecting data from each pass to predict the most effective and efficient subsequent passes. This track-mapping approach can deliver up to 60% greater productivity, according top Komatsu.
The D71PXi24 comes with all iMC 2.0 features, including proactive dozing, lift layer control and tilt steering control. According to Komatsu, the D71 has 47% better visibility ahead of the blade, 9% greater engine power and 13% more blade capacity than the D65.
Komatsu's new PC230F-11 forestry processor is designed for heavy-duty timber de-limbing, cutting and stacking operations. Unveiled in September 2022, the processor's undercarriage is high and wide for working in tough environments and high-debris conditions. It is designed with components found on larger machines, according to the company.
For hauling and loading, Komatsu will display the WA600-8 loader and HD465-8 truck, respectively. Equipped with a Tier 4 Final engine, the WA600-8 combines an enhanced lockup torque converter function and SmartLoader logic to achieve low fuel consumption and high travel speeds. Komatsu says the HD465-8 has a seven-speed, fully automatic transmission and offers a tight turning radius for traction in a variety of ground conditions.