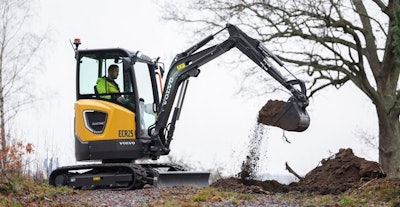 Volvo Construction Equipment
Volvo Construction Equipment, Atlas Copco Group, and Husqvarna Construction have announced a new partnership with the Sweden-US Green Transition Initiative to showcase the electrification of construction equipment, green infrastructure construction, and the transition toward a more sustainable construction sector in the U.S.
The Sweden-US Green Transition Initiative is a collaborative program founded by Business Sweden, the Embassy of Sweden in the U.S., the Swedish Energy Agency, and Vinnova, Sweden's innovation agency.
The consortium says it will initially focus on building electric vehicle (EV) charging infrastructure in the United States, using exclusively electrified machines. This marks the first-ever collaboration among these companies, showcasing their commitment to sustainability, innovation and electrified construction equipment, such as excavators, wheel loaders, portable air compressors, energy storage systems and concrete power cutters.
"The future of construction equipment is electric. There may not be an electric alternative for every application yet, but in Atlas Copco Group we already have a wide range of electric solutions available and are committed to further developments. We are proud to be delivering real-world solutions to help our customers and their customers adopt a more energy efficient way of working," says Bert Derom, president of Atlas Copco Portable Air Division.
"We look forward to contributing our expert knowledge along with equipment and diamond tools from the light construction industry to support this journey toward creating low CO2 emission construction sites. This partnership is a great opportunity to show how we can support the construction industry to lower its fossil dependency," said Karin Falk, president, Husqvarna Construction.
"Volvo CE is advancing sustainable power in the construction industry with our lineup of low- and zero-emission heavy equipment, yet we know collaboration will be critical to bring about the type of holistic change that is truly needed," said Ray Gallant, vice president, product management and productivity at Volvo CE North America. "We're excited to join other well-respected, like-minded companies to demonstrate how these green alternatives can be used to help deliver the infrastructure improvements we need."
Since its Washington, D.C. office opened in November 2022, the Sweden-US Green Transition Initiative has established pilot projects that showcase innovative solutions to accelerate Swedish-American collaboration in the transition toward a low-carbon economy.