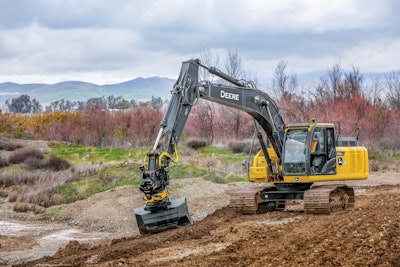 John Deere
Upon announcing a 12 percent increase in sales for the third quarter of 2023, Deere & Company has raised its forecast for the 2023 fiscal year.
The construction, forestry, ag and turf equipment manufacturer reported net sales and revenues of $15.8 billion and a net income of $2.9 billion for the third quarter ended July 30, 2023. For the first nine months of the fiscal year, worldwide net sales and revenues rose 24 percent to $45.8 billion, compared to $33.6 billion last year.
Sales increased across Deere's three main divisions, with the company citing strong order books and favorable price realization.
Construction and forestry sales jumped 14% to $3.7 billion. U.S. and Canadian construction equipment sales are expected to be flat to up 5% for the fiscal year. Global sales of roadbuilding equipment are also expected to be flat to up 5%, while global sales of forestry equipment are expected to be flat to down 5%.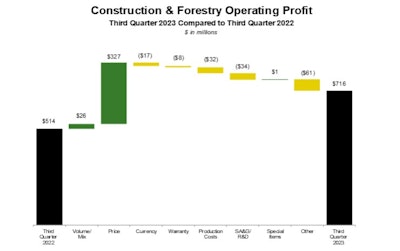 Deere's production and precision agriculture and small ag and turf divisions saw smaller gains, with net sales rising 12% and 3% for the quarter, respectively.
"Reflected by our strong third-quarter results, Deere continues to benefit from favorable market conditions and an operating environment showing further improvement," said John C. May, chairman and chief executive officer. "We are also being helped by stabilizing conditions in the supply chain, the sound execution of our business plans, and an improving ability to meet demand for our products and serve customers."
In the third quarter of 2023, a favorable tax ruling in Brazil allowed the company to record a $243 million reduction in the provision for income taxes and $47 million of interest income.
Deere is now forecasting net income to be in the range of $9.75 billion to $10.00 billion for the full year.
"Deere is well on the way to another year of exceptional achievement due in large part to positive fundamentals in the farm and construction sectors and the unwavering commitment of the Deere team, including our dealers and suppliers," May said.
"Fundamentals are expected to continue fueling solid demand for our equipment, supported by a strong advance-order position. At the same time, through the company's smart industrial operating model, we are delivering differentiated value to our customers, enabling them to do their jobs more profitably and sustainably."