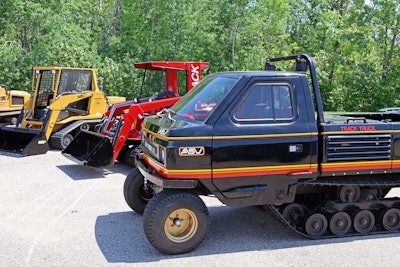 ASV
Compact track loader and skid steer manufacturer ASV is celebrating its 40th anniversary, marking the date in 1983 when Edgar Hetteen and Gary Lemke—both pioneers in the snowmobile industry – started the company.
The duo initially set out to build a pickup-sized rubber-tracked vehicle for snowmobile trail grooming and quickly realized the technology could be used for compact track loaders as well.
The first Posi-Track rubber-tracked compact track loader was created in 1990, providing operators with exceptional traction on soft, wet, slippery, rough or hilly terrain. Over the years, the Posi-Track loaders' undercarriages improved with innovations like a single-rail design, metal-face sealed wheels and internal drive-sprockets.
Here's a look at what has happened since the company entered the compact equipment market:
1995: ASV moved from its original facility in Marcell, Minn. to its current location in Grand Rapids, Minn.
1998: ASV entered into an agreement with Caterpillar to produce rubber track undercarriages for some of the Cat compact equipment product line, a partnership that continues today.
2008: Terex purchased ASV Inc. from its original shareholders and later began to offer ASV-designed loaders under the Terex brand.
2011: A line of ASV-built skid-steer loaders was added to the Terex product line.
2014: Manitex purchased 51 percent of ASV. This move allowed ASV LLC to begin marketing its own line of compact track loaders, once again under the ASV brand in 2015.
2017: ASV Holdings, Inc. completed its I.P.O. to become an independent public company and began trading on NASDAQ under the symbol, "ASV."
2019: ASV merged with the Yanmar Compact Equipment division of Yanmar Group.
2020: ASV launched its MAX-Series compact track loaders and skid steers line.
2021: ASV launches its first loader powered by Yanmar.
[Watch: Yanmar vs. ASV CTLs – What's the Difference?]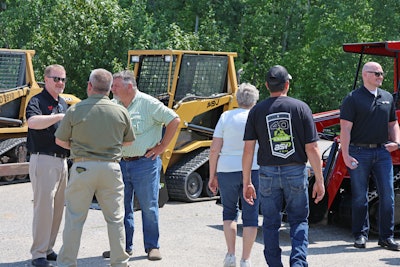 ASV celebrated the milestone with an open house event at its Grand Rapids, Minn. facility earlier this month. The event featured a full lineup of legacy and new ASV models, tours of the factory, and various family activities and giveaways.
"Talk to any of our longtime staff — and there are many — and you'll find that the same passion for the products exists now as it did on day one," said Tate Johnson, president of the Yanmar Compact Equipment North America, which encompasses the ASV brand. "This anniversary and today's continually innovative ASV products are proof that the brand's entrepreneurial spirit lives on."