September saw an uptick in planned nonresidential building projects, despite concerns about Covid-19, pricing and the political stalemate in Washington over the infrastructure bill.
The Dodge Momentum Index posted an 11% gain over August to 164.9, and a 30% increase over last September.
"The gain in the Momentum Index and its components in September is certainly good news and a sign that owners and developers are looking past the current concerns over pricing, Delta and politics and are moving forward with projects to meet demand," says a news release from the Dodge Construction Network, which issues the monthly index.
The index's commercial planning component rose by 13%, and the institutional component rose 8% over August.
Dodge says planning for nonresidential building projects began to recover early this year, but they declined during summer due to higher material prices and shortages in supplies and labor.
September's turnaround saw a broad-based increase in project planning, with the exception of the health care sector, which has seen a drop in projects planned in the past several months, Dodge says.
When compared to September 2020, last month's overall index increased 30%, with commercial up 32% and institutional up 25%.
Dodge believes that more ups and downs are ahead for the index. "Month-to-month volatility in the data is likely to remain for some time."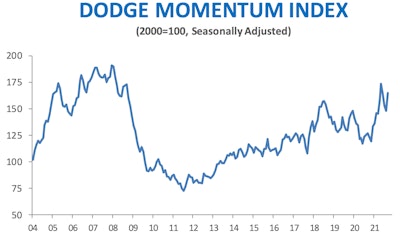 September's increase was driven by 17 projects costing more than $100 million each. Those projects include the $500 million "The Star" office building in Los Angeles; a $250 million office project in Cambridge, Massachusetts; and a two-phase lab facility in Boston that totals $675 million.