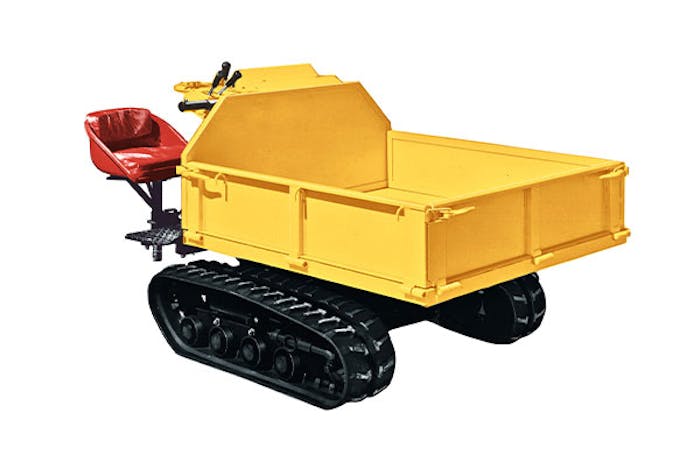 Yanmar is celebrating the 50th anniversary of the world's first rubber-tracked carrier.
The first such model, the YFW500D, was created in 1971 when the undercarriage of a Yanmar rubber crawler combine harvester had a cargo box added to it, the company says. It ran on a Yanmar diesel engine.
The tracked carrier enabled operators to go onto soft ground where trucks could not tread.
Seven years later, Yanmar followed up with the YFW26D. It ran on a 17-horsepower diesel engine and had a capacity of 3 tons. The three-cylinder water-cooled engine gave the machine the power to quickly climb slopes.
Here's a rundown of Yanmar's tracked carrier models in the ensuing years:
1985 – The YFW25R boosted speed to 6.8 mph, twice the speed of conventional crawlers at the time, the company says. It also had the industry's first reverse seat. The machine also served as the prototype for the company's C30R model, which is still on the market.
That same year, Yanmar also launched the YFW40R, which came with a 64-horsepower four-cylinder diesel engine. The company designed the carrier for speed, power and operator comfort. It was the prototype for the company's C50R, which is still on the market.
1988 – The YFW8R came in at only 37 inches wide, and for the first time, a crawler carrier's seat was placed in the center rather than being mounted on the side. This made it easier to get in and out of the operator station. The model became the prototype for the company's current C12R.
1990 – The company went even narrower with its C6R at only 31 inches wide. It was designed for densely populated areas with narrow entries and could go where small pickup trucks could not, for such projects as civil engineering, landscaping and forest roads.
1996 – Yanmar goes big with its C120R. At 240 horsepower and 11-ton payload, it marks the company's largest tracked carrier.
2000s – Yanmar offers the C30R-3 and C50R-5 in the U.S. The 5,512-pound payload C30R runs on a 46-horsepower engine and features a two-pump, two-motor hydraulic system for smoother running and spin turns and has upgraded technology, such as GPS remote monitoring. The C50R has a 111.5-horsepower engine and a payload of 8,379 pounds.