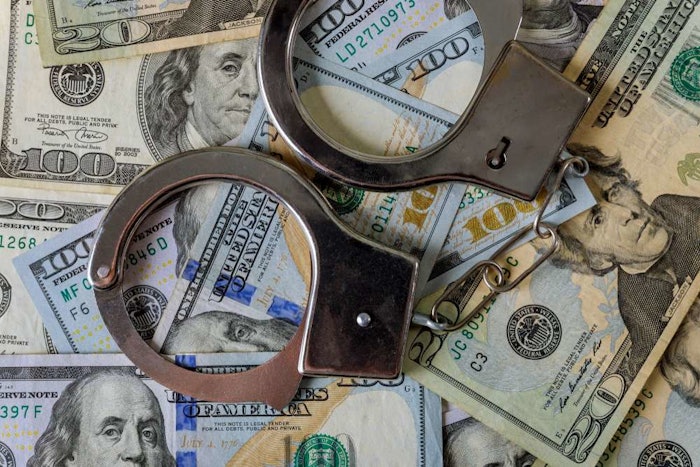 A former executive with Bloomberg LP in New York has been sentenced to 38 months in prison for tax evasion for his part in a scheme in which subcontractors paid bribes to win bids on construction jobs.
Anthony Guzzone, former Bloomberg director of global construction, pleaded guilty to one count of felony tax evasion. According to the U.S. Department of Justice, Guzzone received more than $1.45 million in bribes. He also received in-kind bribes, such as $8,000 worth of tickets to the Super Bowl. He did not report the income from bribes he received between 2010 and 2017.
Guzzone was among others involved in the scheme, which totaled more than $6 million.
Michael Campana, a former Bloomberg manager, has been sentenced to two years. Subcontractors paid for the $40,000 catering hall and $13,000 in photography services for his wedding, as well as $23,000 to a travel agent for his honeymoon, according to the Justice Department.
Two officials at Turner Construction, former Executive Vice President Ronald Olson and former superintendent Vito Nigro, are also involved in the scheme and awaiting sentencing in federal court for tax evasion, the department says. Turner Construction performed work on Bloomberg projects.
Along with prison time, Guzzone was ordered by U.S. District Court Judge Lewis Liman to serve three years of supervised release after his sentence and to pay the IRS $574,005 in restitution.
Assistant U.S. Attorney David Lewis for the Southern District of New York and Senior Litigation Counsel Stanley Okula of the Justice Department's Tax Division prosecuted the case.
All five men have also pleaded guilty in New York court on separate state charges for the scheme. The case also involved 22 contractors that have pleaded guilty in N.Y court.