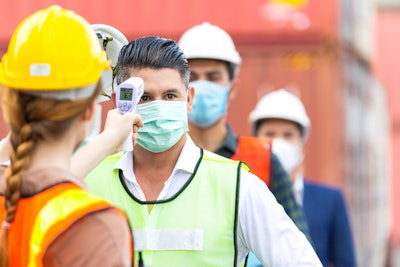 As areas around the country hit triple-digit heat index temperatures, construction firms are reporting challenges in keeping their employees safe from heat-related illness, especially while workers must wear face masks to prevent coronavirus spread.
"In all reality, face coverings are adding another layer of potential heat," says Rodd Weber, corporate safety director for PENTA Building Group based in Las Vegas. "And we've had several subcontractors say that they've had people go down with heat exhaustion and even heat stroke."
Another concern with face coverings in the heat: Workers sweat through them quickly.
"It's impossible to wear just one a day," says Jane Beaudry, senior health, safety, environmental manager for Jacobs. At Jacobs jobsites workers are given disposable masks each day as they arrive. Workers frequently need two or more masks a day to replace ones they sweat through.
"They're going through them quickly," she says. "We give them as many as they need."
Weber, Beaudry and other safety officers with construction firms said during a recent webinar sponsored by CPWR and the National Institute for Occupational Safety and Health that they are trying to find creative ways to keep mask-wearing workers cool and are constantly reinforcing heat-safety guidelines to keep them safe.
"In the Southwest United States, there are a lot of real hot days," Weber says. "And so we're looking at some alternatives, because it is a potential safety concern. We don't want the cure to be worse than the disease."
Looking for relief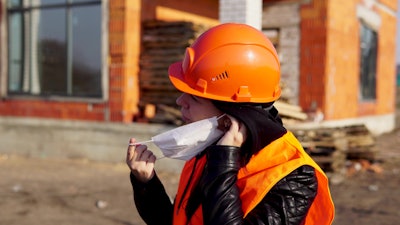 The safety officers presented varying requirements for when and where workers must wear masks and what types of masks they must have on. Those requirements mostly centered on how close a worker is to others.
For instance, Turner Construction requires workers more than 6 feet apart to wear, at minimum, a two-ply face cover, says Cindy DePrater, senior vice president and chief environmental health and safety officer.
For those working closer than 6 feet for more than 10 minutes, the company requires at minimum a surgical mask or KN95 mask and eye or face covering for splash protection. In those cases, workers often wear a Vader mask, which consists of goggles with an integrated face shield similar to a paintball mask, over a KN95 mask. "It's really effective, and it's fog-resistant," she says of the shield.
Beaudry says the same goes for workers on Jacobs' sites on an aerial lift platform. "I think people feel a little bit more comfortable with a face shield on in addition to the mask," she says.
As workers get farther away from others, more leniency is being considered.
"We are trying different things in beta test form with smaller projects," DePrater says. "So on one project in Florida, where we have probably 70 acres, if you get within 6 feet, you've got to put on the mask, but if you're beyond 6 feet, you can keep your mask down." The same rules she mentioned earlier for close-proximity work would still apply.
Weber says PENTA also makes allowances for those working far from other workers, such as alone at height in an aerial platform.
"They're working by themselves on the ceiling, doing some work inside of a very large structure, and there's no one around within 50 yards from where they're at," he said. "We'll let them pull their mask down and keep it down under the chin so they can get some fresh air."
He says the company provides neck gaiters and face masks that workers can wash and reuse instead of disposable face masks. The concern is that workers could be tempted to reuse disposable masks.
Turner Construction allows disposable masks but has protocols on how they should be stored and disposed of. The company issues paper bags to each worker with their names on them for placing the mask in during breaks, DePrater says. Workers are required to wash their hands before taking off a mask, wash their hands before putting it in the bag and then wash their hands again after putting the mask in the bag.
"If they sweat it through or they get it wet, we throw it away, and we give them another one," she says of masks.
Not much choice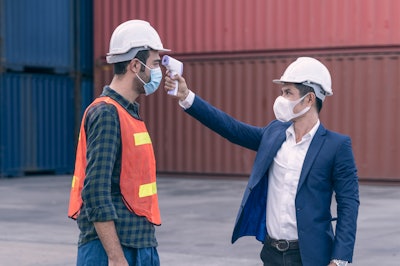 In some cases, though, the mask requirements on the jobsite are being dictated by stricter state and local rules or by the project owners, which may not allow much in the way of alternatives.
Beaudry said Jacobs uses disposable masks on jobs because that's what the customer wants.
"From a visual standpoint, they can have confidence that they're wearing an effective piece of PPE," she explains of wearing the disposable masks. Otherwise, when looking from a distance, they can't tell whether the reusable masks are single-ply or double-ply.
Weber said project owners in some cases have COVID monitors who keep a watchful eye on jobsites, including on subcontractors.
"On several of our jobs, we've just had to implement a zero-tolerance policy, similar to what you would have with, say, fall protection or one of the other life-threatening type injuries," Weber says. "… It certainly is a challenge. But it's one that you just have to try and gear up … to make sure we're managing it."
Making the best of it
Construction companies have regularly held toolbox talks on dealing with the heat and watching for signs of heat-related illness, but with masks being required and adding to the heat dangers, those talks are coming more frequently.
"We generally start speaking about heat-related illnesses in early April," says Bob Kunz, group safety director for Dimeo Construction Co. based in Providence, Rhode Island. "But this year, we have had a continuum of conversation regarding heat-related illness in our toolbox talks and our daily huddles at the crew level."
They've even posted flyers in the porta johns reminding workers to stay hydrated. To improve morale, they give out Popsicles each day to workers. "We're finding that's a good way just to break the edge a little bit," he says.
Kunz has found the OSHA-NIOSH Heat Safety Tool app helpful for crew leaders planning the day's work. "It gives an idea of what they're going to be confronting over the course of a day." The app provides the heat index forecast and precautionary recommendations related to that risk level.
Weber says PENTA has tried a variety of ways to help workers as well, including providing water-filled camelbacks so they can stay hydrated.
All of the contractors said they were making sure workers stayed hydrated and were providing frequent breaks, as often as every 45 minutes. They've been providing shaded areas and spaces where workers can safely take off their masks to get some relief.
But they say the heat, the masks and other precautions – along with the overall added stress of living in a pandemic – are taking a toll on workers.
"These are challenging times, and we've probably got another year of this," DePrater says. "The fatigue factor is going to be real. The stress factor is real. The fear is real."
Jacobs performed an ad hoc poll of its workers on their fatigue level and found it was much higher than in previous construction seasons. "The overarching feedback was, on a normal shift in normal circumstances where they're starting to feel fatigue at 2 or 3 in the afternoon from their shift work, they're now feeling it at 10 or 11 in the morning," Beaudry said. "I think it's the implication of all of these added structures, physiological and otherwise, and I think that's a major concern. They don't have a lot of gas in the tank at the end of the day."
That fatigue was also leading some to worry about the other dangers always present in construction.
"I would just caution everyone," Weber said, "don't become so focused on COVID that you lose sight of the fact that we have plenty of other hazards that could literally kill somebody at any given time on a jobsite."
What the CDC says
The U.S. Centers for Disease Control and Prevention acknowledges that those working in conditions where masks may increase the risk of heat-related illnesses should be able to prioritize wearing masks.
"Outdoor workers may prioritize use of masks when in close contact with other people, like during group travel or shift meetings, and remove masks when social distancing is possible," says the CDC in its "Considerations for Wearing Masks" guidance.
It does not recommend using face shields in place of masks and says it is not known what level of protection they provide from respiratory spray. However, it recognizes there are some cases, such as working with someone who is hearing impaired or other conditions, in which shields may be used instead of masks. In those cases, it says certain face shields may provide better protection than others. Those shields are ones that wrap around the sides of the face and extend below the chin, and hooded face shields.
OSHA cloth mask guidance for construction
U.S. Occupational Safety and Health Administration guidance says cloth masks in construction should:
Fit over the nose and mouth and fit snugly but comfortably against the side of the face;
Be secured with ties or ear loops;
Include multiple layers of fabric;
Allow for breathing without restriction;
Be able to be laundered using the warmest appropriate water setting and machine dried daily after the shift, without damage or change to shape (a clean cloth face covering should be used each day);
Not be used if they become wet or contaminated;
Be replaced with clean replacements, provided by employer, as needed;
Be handled as little as possible to prevent transferring infectious materials to the cloth;
Not be worn with or instead of respiratory protection when respirators are needed.