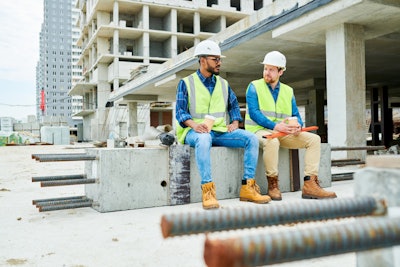 This should be another good year for contractors, with Wells Fargo reporting they are optimistic about nonresidential construction activity in 2020.
A majority of contractors surveyed are also planning to buy the same amount or more equipment this year over 2019.
Jim Heron, senior vice president and national sales manager for Wells Fargo Equipment Finance's Construction Group, predicts steady nonresidential construction growth will continue into 2021.
Of the contractors and equipment dealers surveyed for the forecast, 54 percent expect industry expansion over the next two years, which is up from 51 percent from the 2019 forecast. About one-fourth expect contraction.
"I think both 2020 and 2021 are looking favorable for our market," Heron says.
A little less optimistic
There was a drop in the forecast's Optimism Quotient (OQ) from 2019.
Contractors' optimism dropped 22 points to a 101, but that is still considered "strongly optimistic."
Equipment dealers were less optimistic about 2020 than contractors. Their OQ dove into "cautiously optimistic" territory with a 97, dropping from last year's 121.
When combining those results, the overall OQ is a 99, down from a 122. Wells Fargo is labeling the year as one of "cautious optimism."
(For the forecast, 100 and above is considered "strongly optimistic." An OQ of 75 to 99 is "cautiously optimistic." Below 75 is pessimistic, with more respondents predicting a decline in construction activity.)
Heron says the 23-point drop from last year's OQ is similar to what was seen in the 2016 presidential election year, due to uncertainty over the outcome.
The survey was conducted between November 13 and December 5, before coronavirus dominated the news, and Heron said it was uncertain what effect the virus would have on contractors' views going forward.
Job backlog
One of the reasons for contractors' optimism is their large job backlogs.
Part of those backlogs stemmed from the wettest weather on record during the second half of 2018 and the first half of 2019, and because of the labor shortage, Heron says.
Optimism about their local nonresidential construction markets is curbed somewhat from their views from last year's forecast. For 2020, 88 percent of contractors predict local nonresidential construction activity will stay the same or increase, compared to 96 percent for 2019. For residential construction, 84 percent predict it will stay the same or increase, compared to 85 percent last year.
The main issue concerning contractors' growth prospects was the labor shortage, with 54 percent worried about being able to hire and keep enough workers.
Contractors' equipment purchase plans
Contractor optimism is translating into a similar sentiment as for 2019 when it comes to buying new equipment in 2020:
33 percent expect to buy more new equipment, down from 38 percent for 2019.
40 percent expect to buy the same amount, up from 41 percent.
22 percent expect to buy less equipment, up from 19 percent.
For used equipment:
19 percent expect to buy more used equipment, down from 30 percent.
52 percent expect to buy the same amount, up from 45 percent.
19 percent expect to buy less, up from 13 percent.
Contractors said they would buy more equipment if they had a stronger backlog of jobs and had more long-term confidence in their local and the national economies.
Dealers' sales predictions
Dealers predict growth in sales of new equipment for 2020, but not as much as last year.
40 percent predict an increase in sales, down from 69 percent for 2019.
32 percent predict the same level of sales, up from 23 percent.
29 percent predict a drop in sales, up from 8 percent.
For used equipment, 46 percent of dealers predict sales to increase, and 48 percent expect them to be the same as for 2019.
The rental market
The equipment rental market remains strong, with 66 percent of dealers reporting an increase in rentals in 2019 over 2018.
For contractors, 84 percent of those surveyed rented heavy equipment in 2019.
Contractors also plan to continue renting in 2020, with 31 percent saying they will increase their rentals. However, 18 percent expect to reduce rentals compared to 8 percent for 2019.
About half of contractors who rent reported they do so because of its flexibility. Fewer, though, see it as a way to build equity before a purchase, dropping from 20 percent to 11 percent for 2020.
Fewer dealers plan to increase their rental fleets this year, with 45 percent planning to add equipment compared to 58 percent in last year's survey.
For a full copy of the report, go to www.wellsfargo.com/constructionforecast